Ecommerce business makers, rejoice! Black Friday is right around the corner. The weekend after the Thanksgiving holiday is about days where people are off work and are about to spend a little bit extra on gifts. Retailers start doing marketing weeks beforehand, and even Google has Black Friday marked in its calendar as an official holiday.
Soon, every inbox will be swarmed with limited-time offers. You and your customers have seen them many times — these well-designed emails with beautiful pictures promise out-of-this-world deals while showing a creeping countdown to evoke massive FOMO.
But before we dive into this shopping spree, let's take a closer look at how to run a great campaign for the biggest sales day of the year.
You expect more, and customers want to pay less
Black Friday dates all the way back to the early 1950s, and is still one of the most anticipated days of the year for businesses and customers.
According to the National Retail Federation, some 174 million Americans went shopping over the Black Friday weekend in 2017, spanning from Thanksgiving to Cyber Monday.
If by the end of the 2000s, consumers were ready pack into crowds like sardines in a can just to battle over discounted plasma screens, today just over a third of online purchases come via mobile shopping, according to a report from Adobe Digital Insights. The report also says that by 8 p.m. Eastern time on Black Friday 2018, shoppers had already spent about $4.1 billion. So despite all the talk around consumerism, people are still in love with the deals.
As consumers increasingly move their shopping online, e-commerce has captured a growing share of the post-holiday pie at the end of the decade. Shoppers have gotten used to the convenience of buying and bargain hunting from their smartphones and laptops.
All of this makes your online marketing even more potent. Talkable statistics indicate that referral sharing is 3x higher on Black Friday. As share rates rise, so do referral sales. They are 2x higher 6-8 weeks after your Black Friday sale. This is the so-called crescit eundo.
Why do customers buy, buy, and buy?
On Black Friday, we tend to forget about everything else. According to Christian Eldger, a neuroscientist from the University of Bonn, the positive feedback systems in our brains, when exposed to certain triggers, stimulate strong pleasant feelings that keep us from being able to focus on anything else.
Sales and discounts activate this positive feedback because we experience joy at getting something we want more easily, or for a lower price, than we would otherwise expect to.
Another idea is suggested by consumer psychologist Kit Yarrow. Speaking to Popular Science, he explains that shopping has an element of family tradition — thus bringing us satisfaction in connecting with others through a shared experience.
What that means for referral marketing is that you can create a campaign with special rewards that stand out among the deluge of other offers. This can involve gift cards, which are twice as effective as similar monetary discounts.
Promote your Black Friday deals
With some promotion campaigns starting weeks before Thanksgiving, Black Friday has gained even more momentum. Stores are fighting for customers in order to put their balance sheets over the top for the year. The secret weapon in this fight is promotion.
It's no wonder why. Accenture reports that 87% of shoppers plan to look for deals in the days before Black Friday. For the millennials this number is even higher: 93% of them have done research online listing interesting deals for the sales period.
Even though Black Friday sales stretch well before and beyond the day itself, the importance of promotion can not be underestimated. These facts make it clear:
If you promote your on-site campaign and increase your advocate reward, you can boost your referral sales by 6x.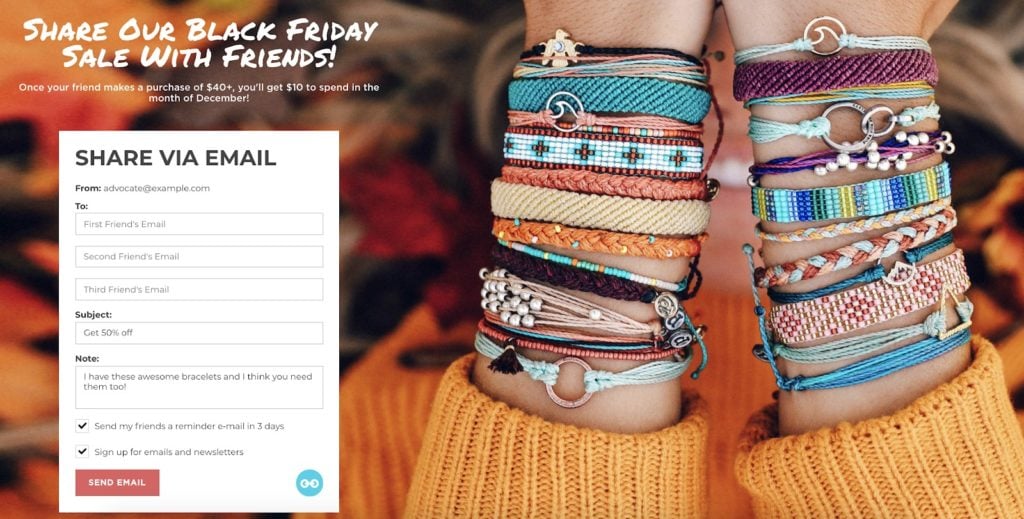 Two things you can try in this regard:
Promote your campaign through different touchpoints, such as on your homepage, in post-purchase pop-up, and on social media.
Encourage your brand advocate to share by giving them a reward which will be higher than the usual one.
If you promote your on-site campaign with updated messaging, you can increase your referral sales by 8x.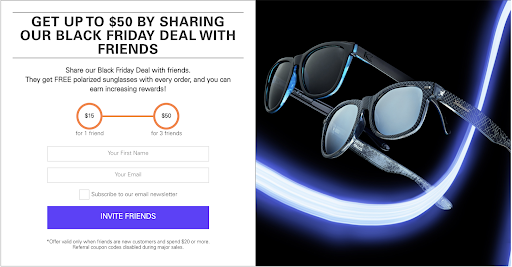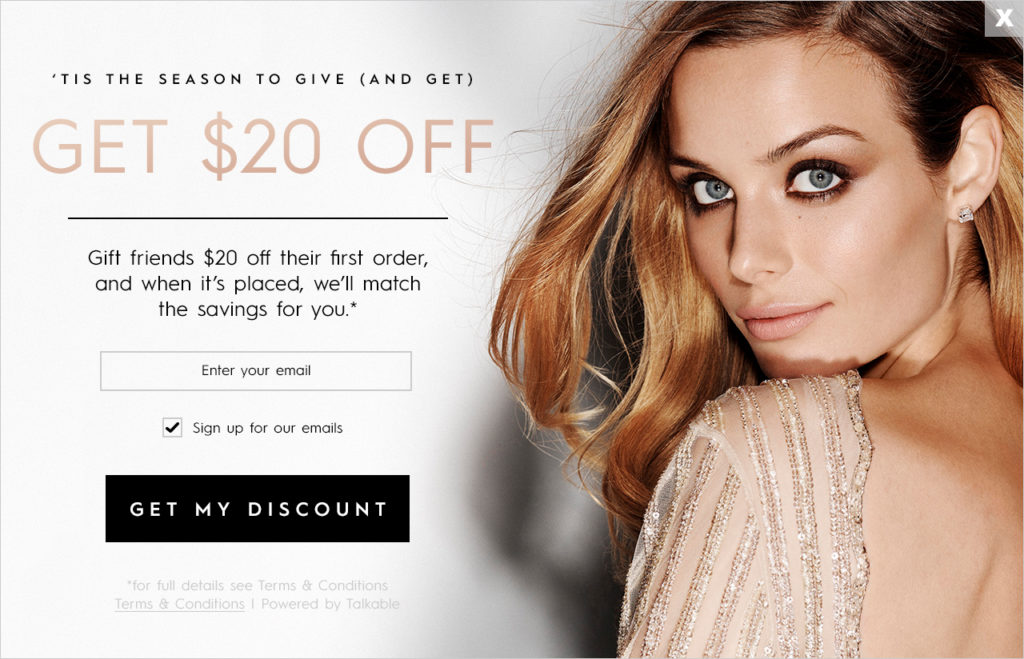 Logically, your messaging has to be Black Friday-focused. In the examples above, the messages are straightforward, the instructions are easy to follow, and the reward value is written in the first sentence.
If you increase your offer, you can increase your referral sales by 2x.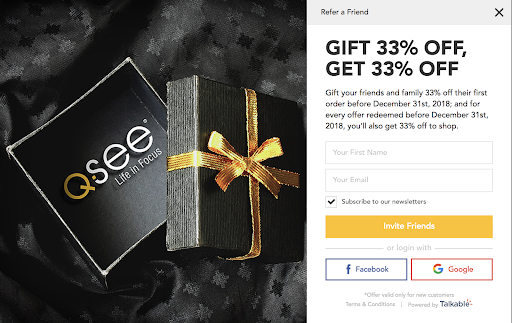 This message has two hooks: the first is the high offer for friends; the second is the limited-time availability for claiming the offer.
Pro tip: Offering 30% off everything is a lazy, non-targeted way to raise your customers' interest. Segment your list before Black Friday and target your customers based on the products they have bought. Whet customers' appetite by sending an email with your referral program a week before. This is better than spamming customers with your offer on Black Friday itself, as other brands will do. For instance, send a focused email to people who have bought your product X times in the last 6-12 months.
Ready to launch your Black Friday campaign?
The shopping landscape is full of holiday campaigns, from the traditional to the extraordinary. While it's hard to imagine retailers will stop thinking of new promotions, you can increase your sales with these tested, foolproof moves:
Start promotion in advance
Target active segments
Update your offer with bigger discounts/additional perks
Create themed messages and design
This is your make-or-break period, so go all in to win the holiday shopping season and make your revenue figures worth celebrating!