Healthcare is undergoing a digital revolution. The consumer marketplace for medical devices and apps is being transformed not only by tech giants like Apple and Google, but also by smaller brands, which have been earning FDA approval for their devices. This market is seeing rapid growth, allowing doctors to provide patients with diagnostic services based on shared data. When the Healthcare Information and Management System Society and AT&T surveyed hospital executives, they found that 47% of hospitals are conducting remote in-home monitoring via wearable and smartphone apps.
For today, and there are apps for tracking your pulse, blood pressure, and blood oxygen, as well as wearable accessories to track and maintain your health, in addition to and other smart devices making it possible to talk to a doctor whenever needed. These apps are even able to detect vitamin and mineral deficiencies and give recommendations to fix them.
This variety of products broadens patients' options, but also makes it difficult for marketers to get ahead of the competition. That means marketers need to fight for attention. According to the CMO survey, healthcare is the top industry sector in terms of expected marketing budget increases. At the same time, Statista reports that the number of connected wearable devices worldwide is expected to surpass 1.1 billion in 2022.
The healthcare industry has always been important for people around the world. And it's still hard for marketers to choose the right message to talk about their products. It's a highly delicate task.
Marketing executives are focusing on accurately promoting healthcare products, and one of the strongest and sustainable ways to do that is through referral marketing, [Editor's note: We've written why referral marketing campaigns are like word-of-mouth on steroids before], which requires much less effort than almost any other marketing campaign.

The question is thus how to develop a referral marketing campaign for health industry products while ensuring they meet legal and ethical standards?
What referral marketing means for the health industry
The goal of referral marketing is to organically gain new customers and sustain the existing ones by building even more trust with them, shortening the distance between the brand and the customer, and increasing brand awareness. Talkable's statistics have shown that every 10th customer becomes a brand ambassador.
A Referral Marketing Campaign for Women's Health
UNICEF reports that 95% of women breastfeed their newborns.
Willow, a tech company that makes breast pumps for new mothers, started running a two-sided referral program. Advocates who share their referral links get 48 free milk bags, while their friend gets a 25% discount.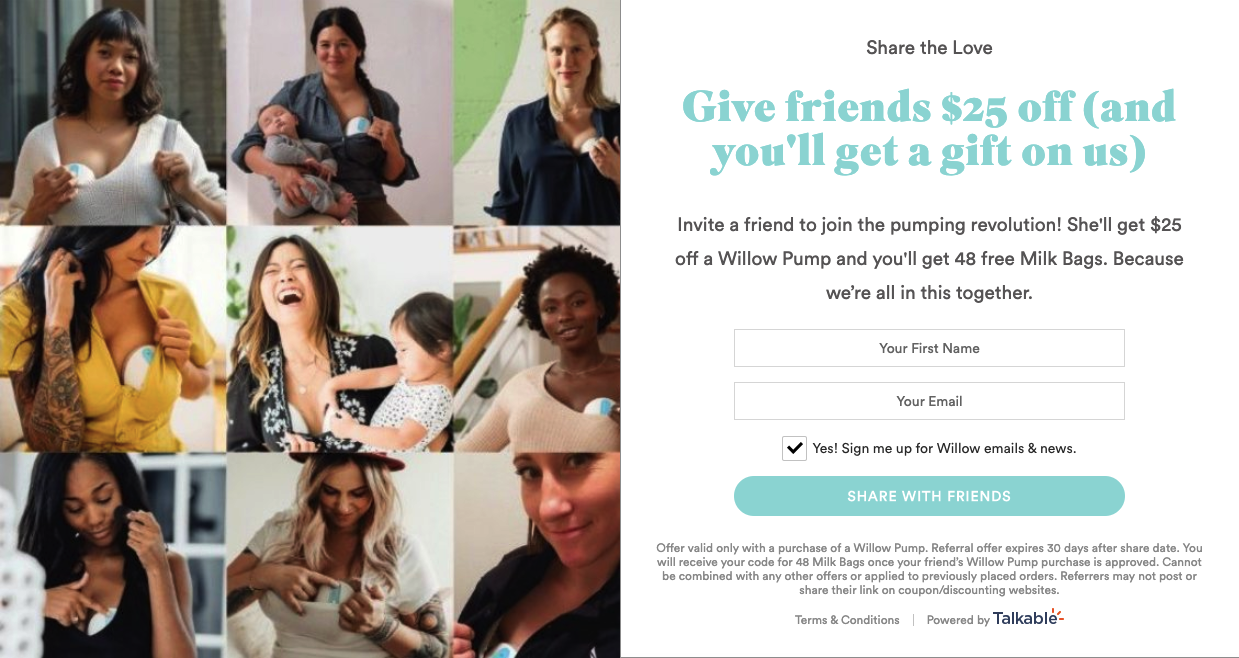 The campaign is clearly trying to build a community of moms around the brand since expectant mothers are the people most likely to share referral links for Willow's product, which is a device allowing them to operate their breast pump remotely and track their volume of milk output.
[Check out Talkable's case study on how Outdoor Research successfully built a community around their brand. building a community around the brand ]
Dietary Supplements for You and Me
People take supplements to stay healthy, from seasonal vitamins for hair, skin, and nails to sports supplements to get stronger while training. The Food and Drug Administration reports that 3 of every 4 American consumers now take dietary supplements on a regular basis.
Tru Niagen, a company that sells a unique form of B3 vitamins giving people's cells the energy they need to function at their best, runs a closed referral program. That means only customers who purchased a product can refer to a friend.

This rule works because the dietary supplements can be recommended only by a person who has already tried the product and can vouch for its safety and efficacy. With tens of thousands of products on the online marketplace today, it's hard for customers to choose what's right for them.
Elysium, a dietary supplement company which helps people keep their bodies in top shape by slowing aging, decided to create a two-stage referral program. They give $50 for each friend who subscribes to the dietary program, as well as an extra $100 for every 10 referred friends.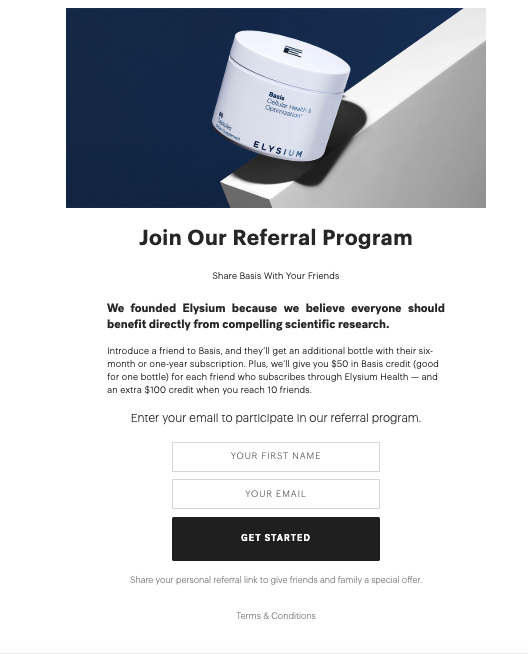 Again, only current customers — people who have taken the product — are allowed to refer it through the program, as promoting vitamins, pills, and supplements fundamentally requires trusting relationships. Since the nature of the product is based on the science of NAD+ (Nicotinamide adenine dinucleotide, a key protein for metabolism found in every cell), it would be hard for a person who has no experience with the product to talk about its benefits results.
Sharing Fresh, Clean Air
Another product on the market is air purifiers. People buy them for their homes, and office managers order them to clean out the air in workplaces from dust, bacteria, and other unpleasant airborne particulates.
That was what Molekule, an air purifier startup, did: they created a referral program for existing customers. If a customer makes a successful referral, their friend gets a $50 off promo code for a future purchase, while the customer sharing the link gets a $50 Amazon gift card.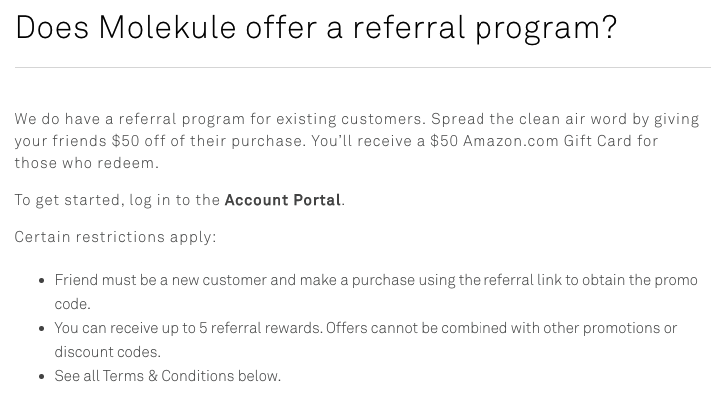 The important point here is to give transparent rules of the game with no hidden cues. This is about the explanation of what to do to give this and that, and setting limits. According to Molekule, their brand advocate can receive up to 5 referral rewards for 5 friends who completed the purchase.
And A Final Word
The New York Times, CNN, and other major media outlets are speculating on how US supply chains will hold up during the coronavirus pandemic. White House Deputy Press Secretary Judd Deere assured reporters that "supply chains in the United States are strong, and it is unnecessary for the American public to hoard daily essentials." Meanwhile, drugmakers have no shortages yet, but that doesn't mean they aren't worried.
Online stores are working as hard as they can: they're offering free shipping, running sales promotions, and launching referral programs to support people and make it more convenient for them to keep an eye on their health during this crisis.