What Is a Referral Link and How Do I Use It?
Word-of-mouth marketing is highly effective as it utilizes peer recommendations, which are inherently perceived as more trustworthy than marketing and communication that comes directly from brands. Referral links help marketers manage and improve word-of-mouth marketing campaigns, providing the mechanism to expand reach through personal networks. Read on to learn about what exactly they are and how to use them.
What Is a Referral Link?
A referral link is a unique URL, which participants in referral marketing campaigns use when they want to share offers, products, and promotions for their favorite brands with their friends, family, and colleagues. These participants may include current or past customers, members of email lists, more formal brand ambassador groups, or a combination of people connected to a brand.
Referral links usually contain a referral code within them — a unique identifier assigned to each eligible participant in their refer-a-friend campaign. Once purchases have been made using the unique referral link, the referrer will be attributed credit for the sale and be awarded accordingly based on how the referral program is structured.
These referral codes help marketers to collect data, as well as to analyze and manage their referral campaigns. This can be important to measure a campaign's effectiveness and to help make modifications accordingly to improve performance. For those interested in learning more about referral codes and IDs, we suggest reading our earlier article dedicated to the subject here:
Blog: What's the Difference Between a Referral Link and a Referral Code?
For brand advocates and ambassadors (people who promote a brand through word-of-mouth marketing), referral links are usually easier to use than standalone referral codes. With referral links, brand advocates can easily send their friends an invitation to check out a business or share a product they think their friends would love with the use of a direct link. They simply have to choose their preferred delivery method and click 'send.'
With referral codes, customers (both current and prospective) have to complete more actions in order to redeem the discounts or credits promised to them in the referral offer. Each customer in the program would have a unique code to distribute, which would then have to be inputted at checkout to claim the offer. As any experienced marketer will say, the more actions a user has to complete, the more likely they are to get lost at some point in their customer journey.
In short, referral links have one major benefit over codes — they minimize the friction. This simplifies the process for all parties involved, giving the campaign the best opportunity to be successful.
Do I Need Referral Links?
If a brand is running a referral campaign for an online business, they won't get far without referral links. Long gone are the days when word-of-mouth marketing was all about the customers' insatiable desire to share their favorite brands with friends. Now, in order to get significant results with referral marketing, brands have to experiment and come up with new ways to incentivize people to become brand advocates.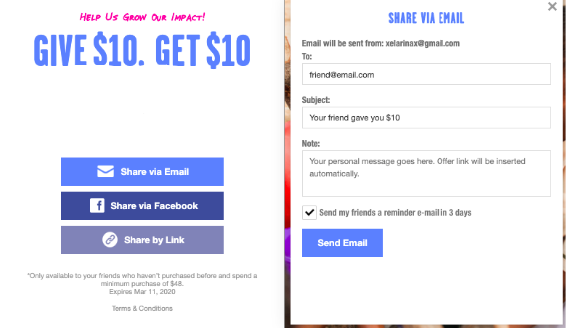 Referral links are just one of the instruments that brands can use within their customer acquisition strategy. If they sound too complicated to implement, no worries — referral marketing software available on the market today takes care of all the under-the-hood tech stuff, so it is unnecessary for brands to make sweeping changes to their website to accommodate the referral marketing system.
How to Create a Referral Link
Every referral marketing software solution out there takes care of creating referral links, making the process straightforward and seamless for the brand using them. Here's what happens when a customer decides to share their referral link with a friend:
A user registers for a referral campaign using their email address..
The system automatically assigns them a unique referral ID.
Now, their email is directly associated with that code.
Whenever they decide to share the referral offer with a friend, they share the link with their personal referral code.
With the right software, brand advocates won't even have to wonder how to share a referral link. Depending on the target audience of a business, they may find that Facebook-feed shares bring the most value to the business. Others may find that their customers may tend to just use email links or other channels.
How to Get Clicks on Referral Links
There are many metrics to pay attention to when managing a referral campaign. Clickthrough rate (CTR) is just one of them. The most effective way to boost the CTR from shared links is to experiment with different incentives, copy, and designs to see which work the best. Think of this as A/B testing to find the right combination of elements to effectively convey the offer and incentivize clicks on the referral link. Beyond the content within your referral campaign, modifying the content to be more appealing for different channels or audiences can be beneficial. For instance, email outreach may perform better with more descriptive copy, whereas most social media messages are more succinct.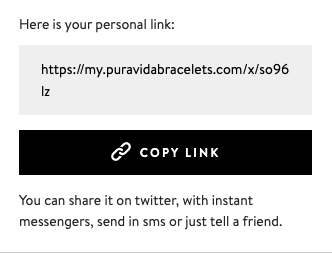 Conclusion

Referral links are a powerful tool at the disposal of brands. They empower and incentivize ambassadors looking to share their authentic connection to a product with others in their existing network, and in turn expand the customer base for a given brand. The creation, management, and monitoring of these links can be done with ease through referral marketing software - and is an essential part of giving a tangible benefit to word-of-mouth marketing.
For those who are new to the world of managed referral marketing and would like to know more about A/B testing, funnels, metrics, and creative strategies to try out, this guide will make great further reading: Complete Guide on Referral Programs by Talkable.