In 2018, Courtney Coffman, the manager of lectures and publications at the Princeton University School of Architecture, published an important article in Atlantic Magazine. The article, titled "Shops Aren't for Shopping Anymore," talks about retailers' growing need to promote their individual labels to broader audiences online. Since "customers no longer shop till they drop," Coffman noted that retailers had an urgent need to invent new methods to reach customers and find new reasons for their customers to shop.
Two years later, the world has been hit by COVID-19. According to data from Earnest Research, New York Times, Walmart, Amazon, and Uber Eats were the first to see their sales spike. At the same time, Adobe analytics reported that virus protection product categories such as masks, sanitizers, and antibacterial sprays skyrocketed in sales by 817%. What we can say for sure is that the pandemic has brought radical changes to retail sales, as businesses have started to shutter from coast to coast, and people have changed how they're spending their money.
That the situation in the market is terribly tight. To survive, businesses are offering benefits to their customers like discounts, free shipping, discreet private fittings, gifts, and coupons for future purchases.
We at Talkable are here to show you how referral marketing can first of all help keep your business standing in these difficult times, and secondly, adapt your retail marketing strategy to the new environment.
Referral Programs Will Help Retail Businesses Survive
At the time when businesses are cutting their spending and recalculating their budgets, marketing and PR are often first to get the ax. Cost-effective methods of acquiring and keeping customers are in super high demand. Referral marketing has a lower customer acquisition cost than traditional marketing channels because it leverages your current customers, who can spread the word about your business to their friends and family.
It's also worth noting that in 2019, Forbes named referrals as the "tactic with the highest ROI". There is a good reason for that. Social Media Today shared statistics:
78% of B2B marketers say that referral marketing generates leads of good or excellent quality.
60% of marketers say referral programs generate a high volume of leads.
54% say referral marketing has a lower cost-per-lead.
88% of marketers use referral marketing and loyalty marketing software.
Example # 1. Food and groceries
Loblaws Grocery, a Canadian supermarket, ran a referral program offering $20 OFF to advocates for referring a friend to their online service. The wording in this campaign plays an important role. "Get $20 off" in the message makes the benefit clear and appealing to potential advocates.

Example #2. Vintage Apparel
Homage is a brand of vintage-look t-shirts, sweaters, and accessories. They chose a '20 for 20' referral campaign which offers rewards for both the brand advocate and referred friends.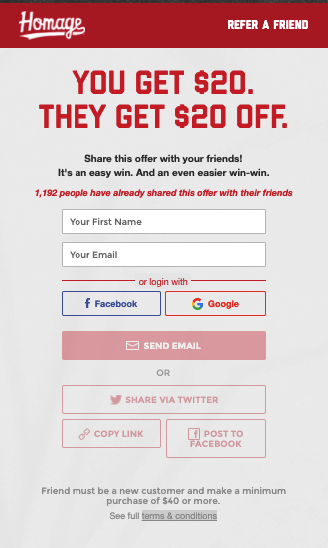 Example #3. Fashion Brands
Despite worldwide spending on luxury brands falling by 57%, online revenue in March 2020 saw 50% growth, according to analysis of online consumers in the US by Quantum Metrics.
Vogue Business reports that interest in fashion hasn't faded out: digital fashion apps are on the rise. More and more people are downloading platforms that allow them to shop for clothes interactively.
For fashion businesses, this moment offers an opportunity to increase engagement, attract new customers, and make a profit.
Even though people are staying home, they are still looking for new sneakers, jeans, T-shirts, and sandals to go out to their backyards. This is why customers are more likely to spread the word about your brand in exchange for a discount.
Fashion Nova, a women's brand selling fast fashion clothing, decided to promote their brand aggressively by offering huge discounts. They are running a referral campaign giving 40% off to a brand advocate for 2 referred friends, who themselves get 30% off their first purchases.
CNN Business has already noted that steep discounts are a part of the spring strategy for US retailers. The reason is to get clothes off the shelves and get ready for the new season.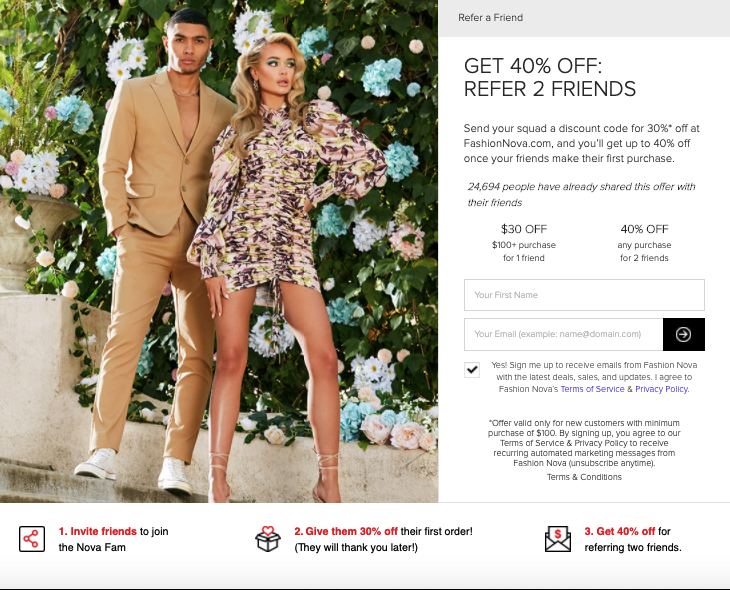 Example # 4. Sporting Goods.
When it came to rewarding questions, Stadium Goods' choice felt on the mirror-type discounting. When the advocate shares $10 off with their friends for the first order, they get $10 off back. The equal emphasis, according to our data, can bring up to 29% in sales.
To increase relevance, Stadium Goods uses the Product Sharing campaign allowing their customers to share specific products directly with their friends. This works well due to the personalization tendency. In other words, friends get a discount on a product they really want and need.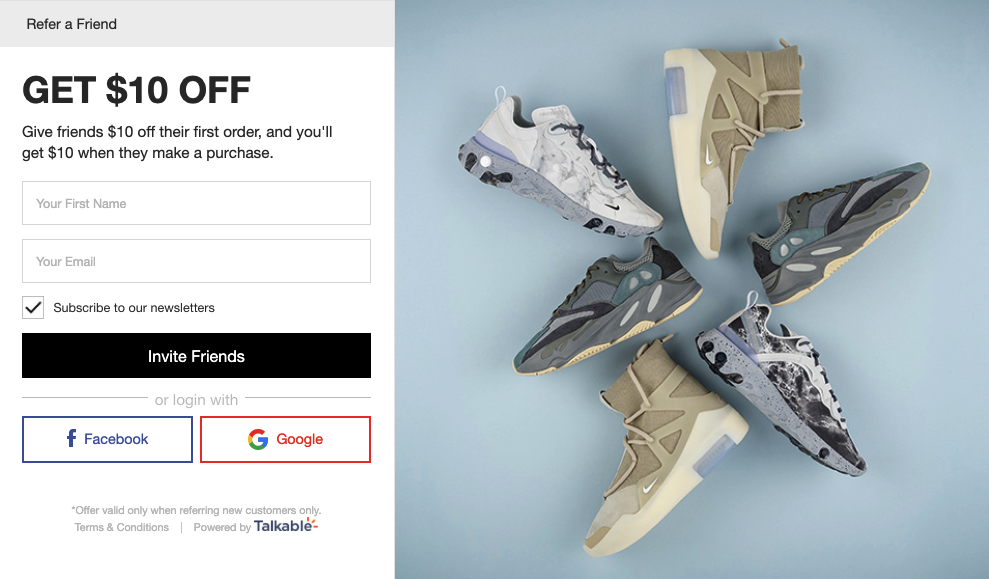 Referral Marketing for Retail: Yes or No?
Referral marketing builds a community around your brand.
Your customers bring you referrals from their contacts, and it's likely that they have much in common with each other. These are the people with whom your customers might work, exercise, or socialize with, or they might just be generally in the market for the same products and services. Thus, referred customers are highly likely to be interested in what you're selling.
Referrals work because they are credible. When a customer sends an item to their friends to check out, chances are that their friends will do so because of their shared trust.
Conclusion
The ongoing economic downturn is changing customers' priorities, as well as businesses' goals. The moment sales start dropping, businesses cut costs and postpone investments. But at the same time, they can't ignore their customers' updated customers' needs, and they have to quickly adapt their strategies, tactics, and product offerings to the current situation.
A timely decision-making process, combined with a thorough analysis of shifting customer demand, will help companies to flourish both during and after the downturn.