When it comes to email marketing for eCommerce, you know your stuff. You've heard that every dollar spent on email marketing delivers an average ROI of $32. You've read that 27% of eCommerce brands' total revenue is generated from email. You've probably heard the calls to start using AI to convert your site visitors into email subscribers.
After trying out well-known tricks for getting customers to sign up for your business's emails, it's hard to find something both new and effective. However, while chasing the latest and greatest ways of getting customers to share their data, some businesses keep making the same mistakes. The most common turn-off for customers is when a business is too intrusive and persistent with pop-ups coming out of nowhere. That doesn't mean that pop-ups are dead, however. If you carefully plan and manage them correctly, they can definitely increase your email subscriptions.
Growing your email list is like growing a tender plant. You're not just collecting faceless data points. These are people who could fall in love with your store, who will return to more purchases, spread the word about your store among their friends.
So what are the best ways of building an email list for eCommerce?
How to Develop an Email List
The more subscription options you have, the better. You can use the following formats of web forms:
A subscription form on the home page
With just that, of course, not many folks will subscribe. It's necessary to offer visitors something they want, like a discount on their first order after. It's to place the form where your visitors easily see it: on the left side of your home page, the higher the better. Another trick is to add an offer subscription form to every page of the store.
A pop-up on the site with an attractive offer
A pop-up guarantees that the visitor sees your subscription form. However, a sudden distracting pop-up can annoy visitors because it covers the content they were looking at and needs to be closed manually. The right spot for pop-up is alpha and omega every bit as much as the right time. It's better not to interrupt your customers' shopping, but time pop-up to appear at the moment the customer is about to exit. You can encourage your customer to not close the pop-up without leaving their email with a discount on a purchase, free delivery, or access to exclusive subscribers-only offers.
Referral marketing program
Referrals are a cost-effective way to acquire new customers and new subscribers. Integrating a referral campaign into your email marketing for your eCommerce store is simple: customers refer friends by offering them a discount for opting in => friends subscribe to your emails => you reward advocates after their friends become subscribers.
The more friends a customer shares the link with, the more rewards they'll earn. A referral race like this can bring you up to 350,000 emails!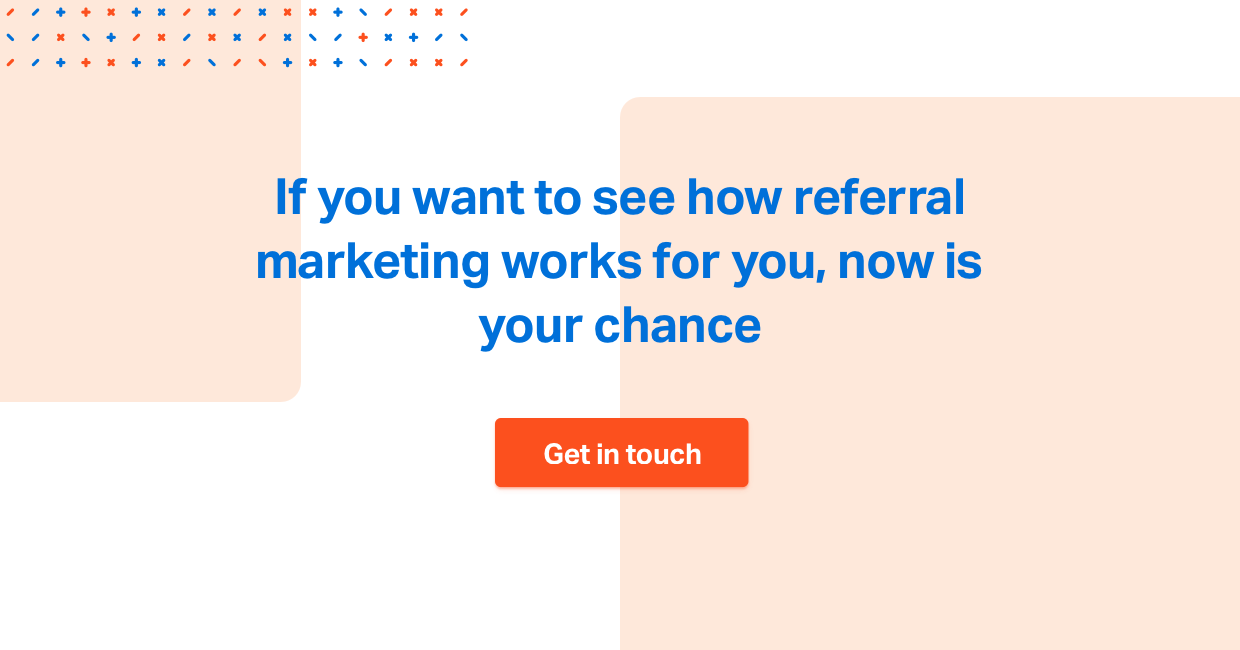 The secret is your customers' desire to get more of the products they love. In this case, ten-sign-ups earn the brand advocate volumizing fiber gel, while thirty sign-ups earn three fabulous beauty items.
Hello bar
A hello-bar is a narrow banner that is "glued" to the top or bottom of the screen. The important thing here is to allow the shopper to close the banner, otherwise it might annoy them and interfere with viewing the main content.
Pop up exit-intent
This pop-up appears at the moment when the user is about to close the site. It holds the user's attention, asks to leave the email and offers the user a discount so that there is a reason to return.
Sumo has analysed 2 billion pop-ups and found an average conversion rate of 3%, with the top 10% of pop-ups averaging a 9,28% conversion rate. Thus, an average-performing pop-up should get you around 3,000 email subscribers if you get 100,000 site visitors.
Facebook subscription page
This means adding an opt-in form on your main Facebook page. When a user is interested in your shop, they click the sign-up button and then they fill in the opt-in form on your page. There's no need for them to even leave Facebook!
Chatbots
Drift reported that around 50% of people say they'd purchase something from a website's chatbot using conversational marketing. These bots can answer questions, joke, and collect shoppers' emails and other information they provide.
While choosing one of these methods, remember to offer a first-purchase discount code code in exchange for a shopper's email. Dr. Paul J. Zak, professor of Neuroeconomics at Claremont Graduate University discovered that recipients who received a $10 coupon experienced a 38% rise in oxytocin levels and were 11% happier than those who didn't receive a coupon. This means customers find delight and joy in getting an offer from a brand they are interested in.
Let's see an example!
What you can do sometimes is playing by ear. The panic around toilet paper during the global pandemic totally cleaned the folks at Who Gives A Crap out of their products (so to speak). The company decided to create a special waiting list for its subscribers to notify them that the products are back in stock.
In an interview with Klaviyo, Mike Altman, senior retention manager at Who Gives A Crap, says that they had to stop paid advertising because "asking people to sign up for a waitlist, but that wasn't on-brand for us."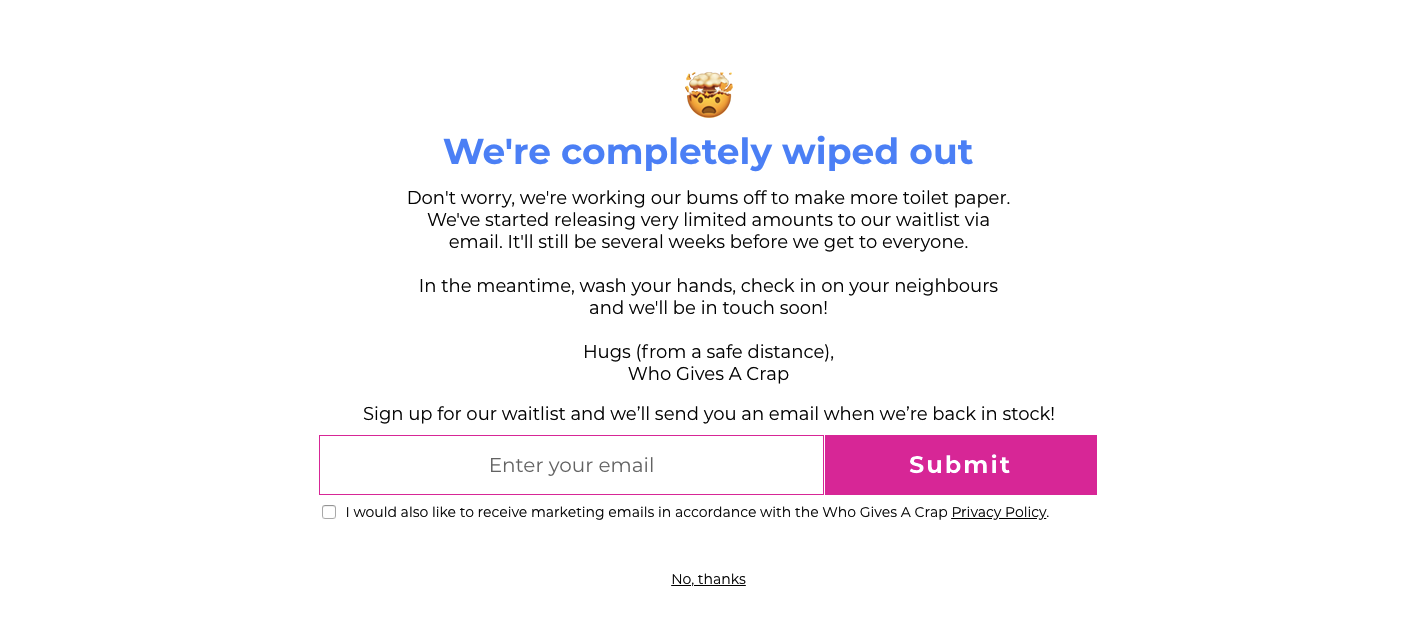 A respectful attitude — it's what gets people interested and coming back!
More Snippets on How to Ask for Emails
In Farfetch's pop-up, their one-field form collects valuable subscriber data.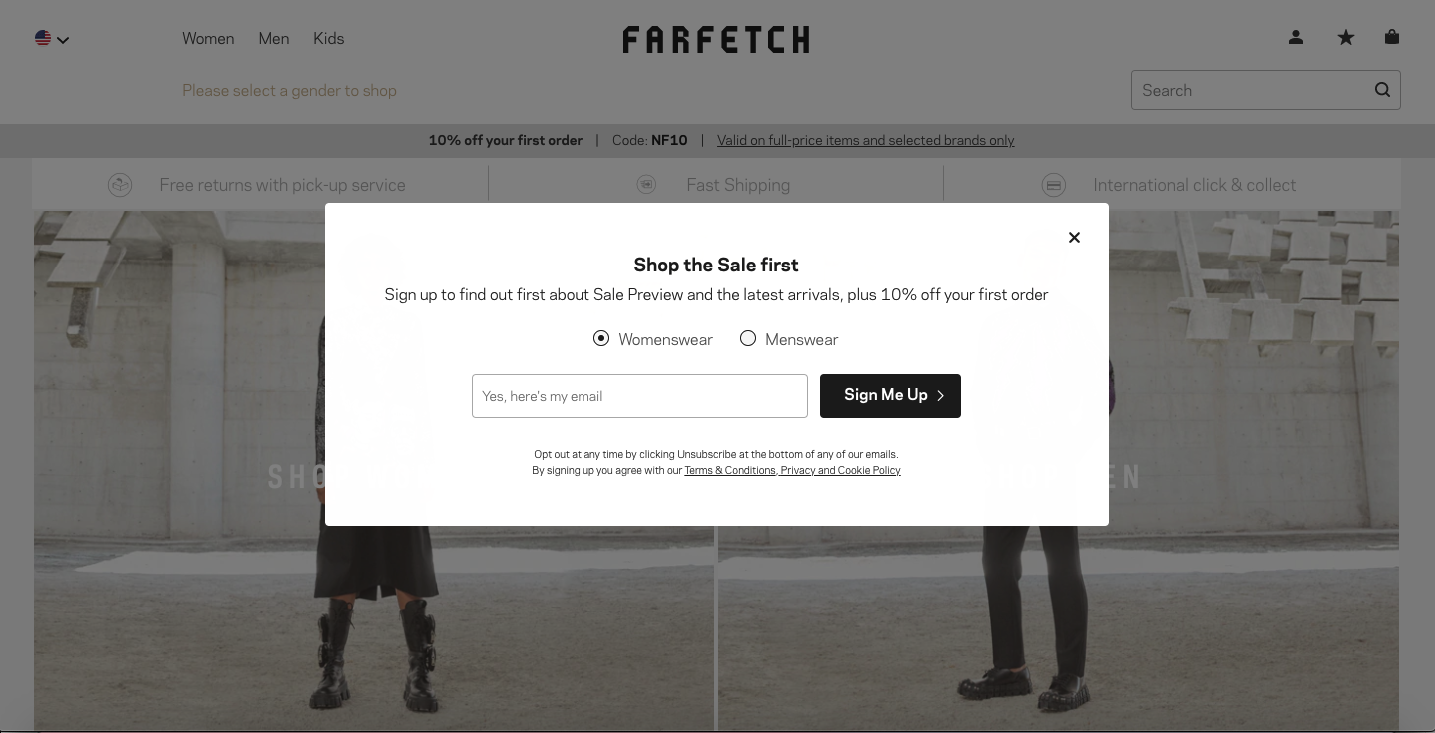 Adidas has a pinned web form with a clear call-to-action. As you can see, there is a catchy heading with a meaningful subtitle. There are no strict requirements regarding the length of the text, so run all the A / B tests of various versions that you'd like.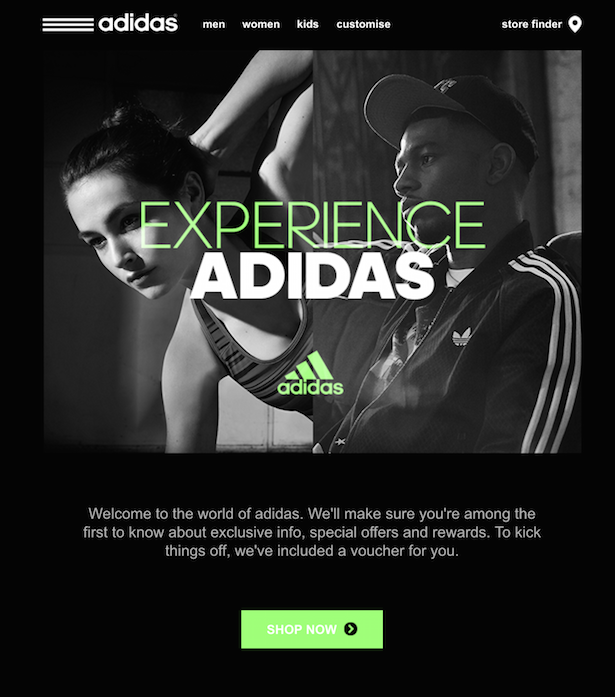 Pura Vida's clever idea was to create a closed jewelry club with exclusive items to be sent to those who sign up for their bracelets group.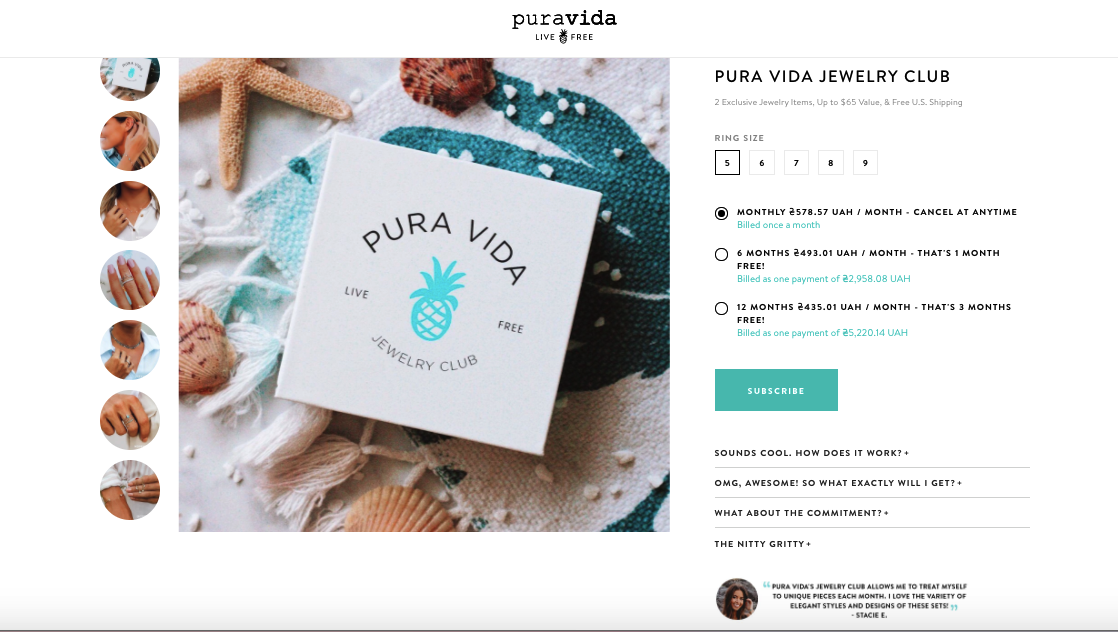 Makia pinned their form on their main page offering a €50 gift card and free shipping for the shopper's email.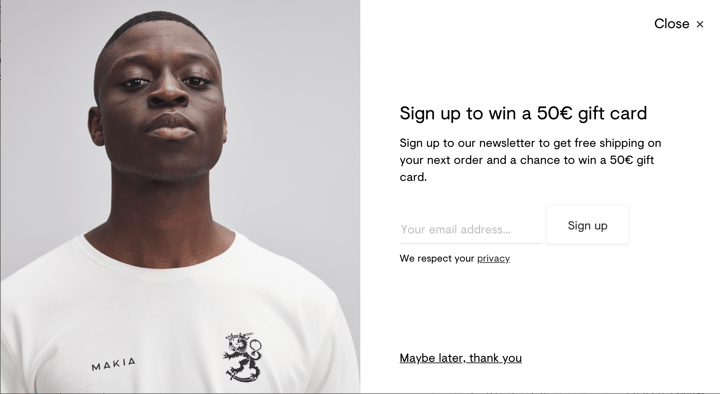 Dr. Martens allows shoppers to choose men's or women's shoes while subscribing to their newsletter so that customers can be sure to receive the most useful offers in their inboxes boxes.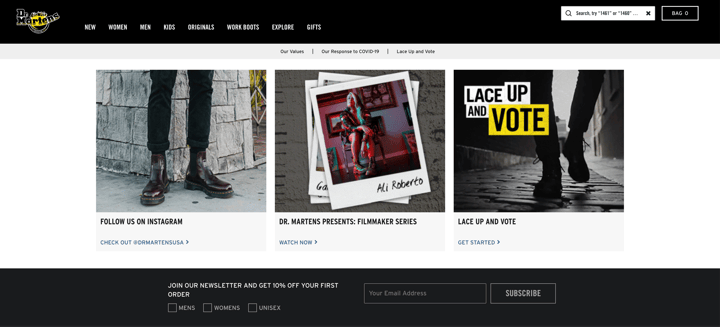 Michael Kors pinned their form as a footer. Customers have to choose their country and store before signing up.
Alpha Industries has their pop-up appear after scrolling down the page. 15% off on stylish military outerwear is a good incentive for shoppers to share their emails.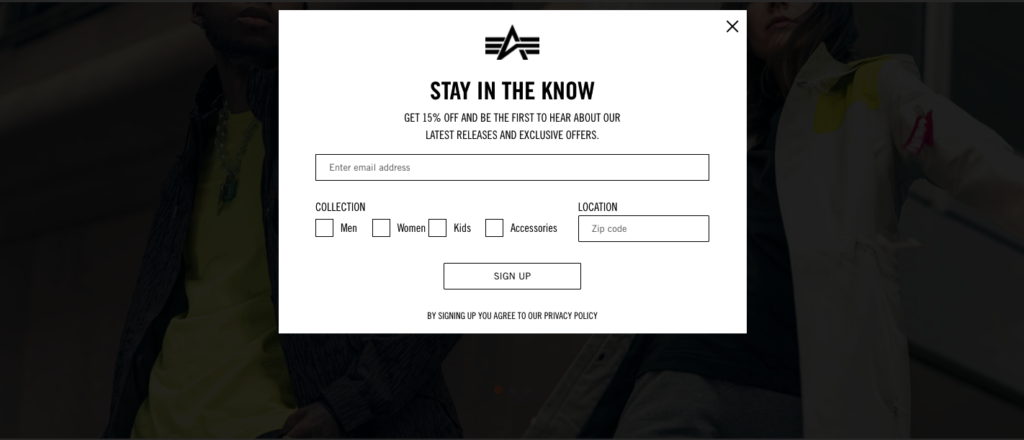 Summing up
No matter which kind of form you choose, it must meet certain criteria. It should be eye-catching, have at least one field to fill out (email address), and offer a clear call to action.
Here's your checklist for building an email database for your online store:
Place the form on your main page, on the product pages, or on the product page categories, as well as other frequently-visited pages on the site.
Add the "Subscribe to Newsletter" checkbox to the registration form on the website and the checkout form.
Create a subscription page to share and attract subscribers from social networks, instant messengers and YouTube.
Add the subscription form on the Facebook page of your online store
Offer a useful incentive to motivate shoppers to subscribe