Shopify is one of the most popular website builders. Built with eCommerce in mind, it's easy to set up, customize and maintain. It's no wonder that business owners choose it so often to power their online stores.
Over 800 000 businesses run their websites on Shopify. But are there any really successful stores on that list? Our answer to that question is "Yes, and you won't believe how cool their products are!"
And to prove the point, we've gathered this list of 9 best Shopify stores with the coolest products:
Klean Kanteen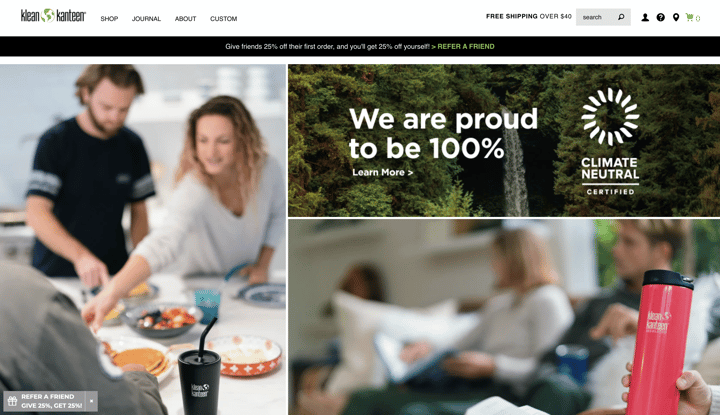 When people buy their first Klean Kanteen product, they often don't realize that it won't be their last. Once you find that, you'll notice that your friends are getting their new water bottles and coffee tumblers just like yours. Sleek design, high-quality sustainable products, and a mission we all feel a part of — all these things Klean Kanteen deliver to online shoppers through a beautifully-designed Shopify store.
Who Gives a Crap
This awesome store sells the toilet paper that doesn't hurt the trees, the planet, or your bum. Who Gives a Crap's story began when the three co-founders — Simon, Jehan, and Danny, found out that more than 2.3 billion people around the world don't have access to toilets, and decided to do something about it. So, they started an IndieGoGo campaign that raised over $50,000 in the first 50 hours.
Who Gives a Crap donates 50% of its profits to help improve sanitation in developing countries. They only sells 100% recycled toilet paper.
If you're looking for the best practices in building a top-grossing, socially-responsible business with an on-point marketing game and built on Shopify, this is it!
IDEO U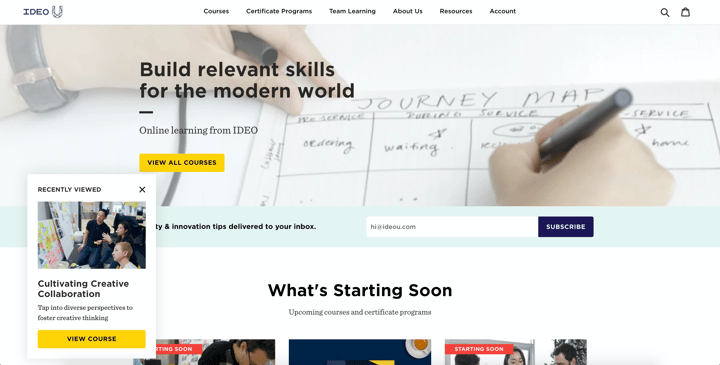 If you thought that Shopify only works for the traditional eCommerce businesses, you're in for a surprise! IDEO U is a learning platform for everyone who wants to bring change to the world through design thinking. Created by IDEO — the people who actually made the concept of design thinking popular — IDEO U helps students unlock their creative problem-solving potential.
Shopify websites can be both well-designed and functional, IDEO U is living proof that they can!
Knockaround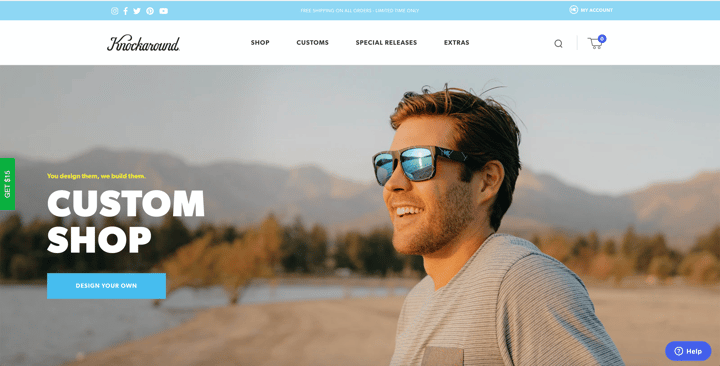 I'd never buy an expensive pair of sunglasses — they'd either get crushed in a week or I'd just lose them in two. Knockaround glasses, however, were designed with people like me in mind. They're built to take a beating and affordable enough not to get upset in case something happens to them.
But their awesome product is not the only reason this brand has made it to our list of top best Shopify stores. Their custom shop is what we really fell in love with. With so many great designs, limited-edition releases, and collaborations available, the possibility of creating a truly unique pair of sunglasses made just for you is just icing on the cake.
Almond Cow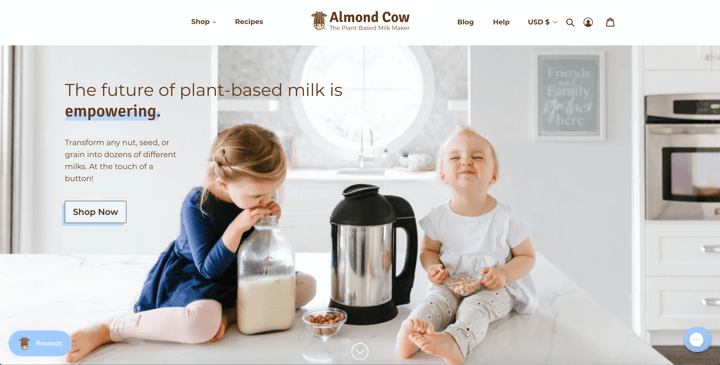 Good news, people! We don't have to wake up at 5 a.m. to milk all the almonds anymore — the Almond Cow is here to end the struggle. Jokes aside, having tried making homemade nut milk myself, I can't appreciate this product more. To have a batch of coconut milk ready in just a couple of minutes with no additional effort is living the dream.
Almond Cow's website is another example of a beautifully designed Shopify store that definitely belongs on this list.
Ojas Studio
Ojas Studio is a brand that makes Ayurveda-style date and grain snacks. If you work in the wellness industry, I strongly recommend you to take a look at their exquisite visual branding for inspiration.
But before you follow through to their website, I have to warn you: whatever you do, don't take their dosha quiz! Because here's what's going to happen:
You'll forget about all the research you were doing for work
Be amazed by how accurate the result is
Get curious and make a first purchase
You'll start telling all of your health nut friends about your new favorite snack
Well, that is how word-of-mouth marketing works, right?
Public Goods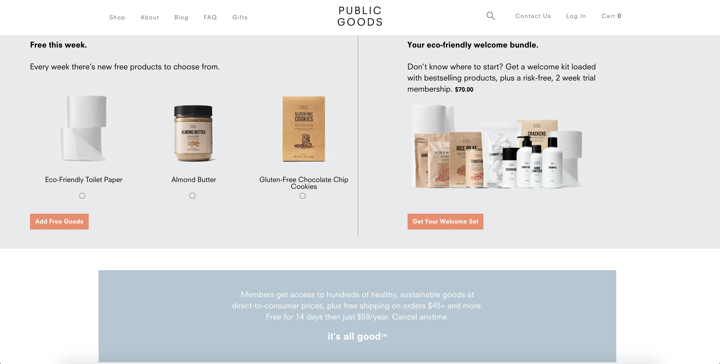 Being a mindful consumer and making ethical and sustainable choices every single time you need such basic essentials like detergent or canned soups is exhausting. Every time I accidentally buy a shampoo that turns out to be not cruelty-free, my heart breaks.
Public Goods is a company that only sells sustainable, healthy and ethically sourced products. What exactly do they sell? You name it! Hot sauce, dental floss, candles, towels, chocolate, and vitamins — Public Goods is the one-stop-shop for everything you may need around the house.
As if not having to think twice whenever you need to purchase something wasn't good enough, Public Goods minimalist website and packaging design look so good, I want to replace everything in my house with their products.
Helix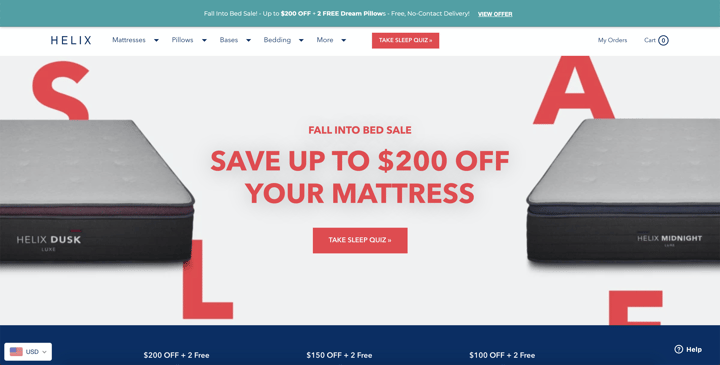 If any of your friends have ever bought a Helix mattress, you probably don't need an introduction. Yes, they are so good, it's impossible not to tell everyone about that best night of sleep you've had in years.
Helix emphasizes the importance of a sleeping experience customized for their clients' unique needs and sleeping styles. They also did a great job delivering this message through their Shopify-based online store featuring wonderfully-crafted landing pages and a sleep quiz created to help their customers find the perfect sleeping solution they're looking for.
Original Grain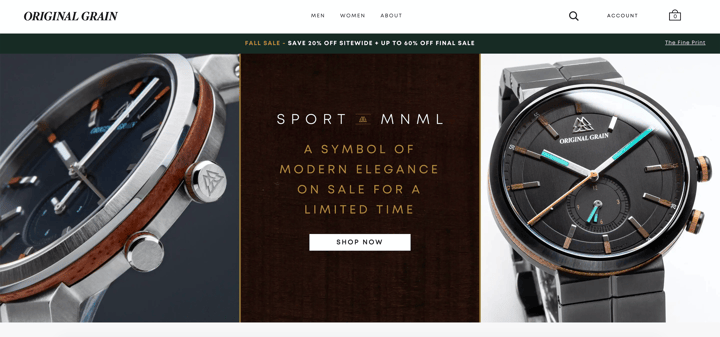 Original Grain is another proudly American company that loves giving back to the world. They handcraft their wood and steel watches using only reclaimed materials and plant a tree in Senegal for every watch sold.
Beautifully-designed products, sustainable production, an inspiring cause, and a story behind every single Original Grain watch are all the things that make them, in our opinion, one of the best online stores built on Shopify.
The secret sauce of best Shopify stores
All these top-performing Shopify stores have several things in common:
They know their target audience
They invest in product and web design
Their copy is one step ahead
They use engaging elements like quizzes and custom product builders to convert customers
There is a relatable and positive story behind their brand
But there's one more thing that all of these companies have in common: referral marketing. All of these awesome stores built on Shopify sell terrific products that people love and can't stop raving about, so they decided to leverage this influence by introducing a referral program.
Shopify not only lets you build well-designed and easy-to-manage websites — it's also very versatile in terms of integrations with all kinds of marketing software. If you are looking for a strategy to help your business become one of the most profitable Shopify stores, we encourage you to read our referral marketing guide for beginners.