Customers love recommending the brands they enjoy to people they know. Referral marketing is your opportunity to monetize that and increase leads and drives sales. Here are just five reasons why referral marketing is perfect for your eCommerce business.
It fits perfectly into your social media strategy
Ecommerce and social media go hand-in-hand, and every online business worth its salt has a solid social presence. Referral marketing fits into this social strategy perfectly.

Most decent referral schemes include social sharing buttons so your customers can quickly and easily share their positive experience with their friends online. Consequently, eCommerce businesses can swiftly elicit and track new referrals.

And referral marketing through social has another benefit too: social proof. When customers publicly share your brand online, it's visible to all their friends and followers. This increases trust in your brand, a valuable thing in the saturated eCommerce market.

Even those who don't enter your referral scheme are aware of your brand, either researching it themselves immediately or keeping it in the back of their minds for later.

And for those that do join your referral scheme, you can use their data to build up your consumer segments to identify those that you might not have previously considered.
It's easy to get started with
Referral programs in the past were notoriously tricky to implement. However, the rise of referral marketing software like Talkable has made it easy to do so. Technology makes referral marketing simple, easily syncing up with your existing online store.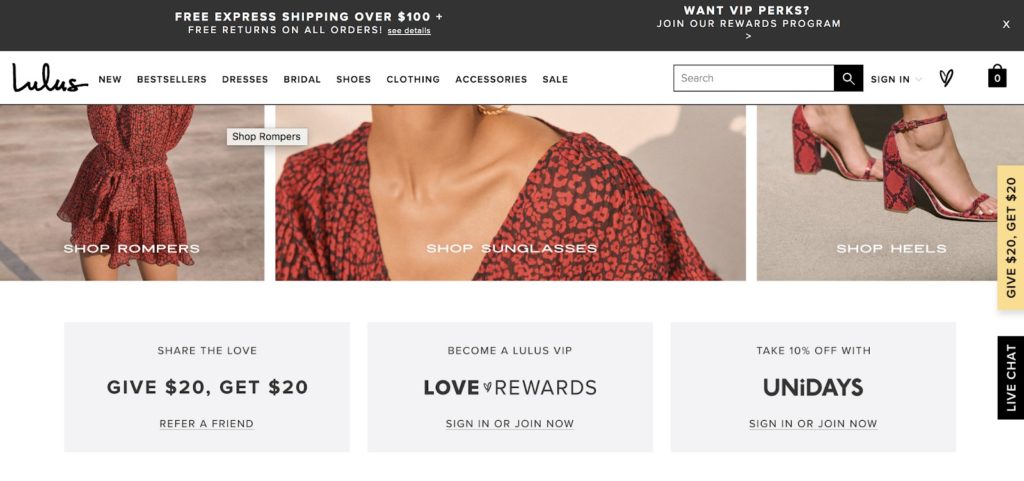 Not only does Talkable easily sync with most eCommerce stores, but their Customer Success team makes it easy for eCommerce entrepreneurs to implement a referral marketing strategy. They create and test your referral campaigns to give you the best results, optimizing each one to drive maximum traffic and sales for your business.

And of course, when you're starting your own eCommerce business, anything that saves you time is a godsend.
It boosts your email marketing ROI
Your email marketing strategy spans multiple formats: promotional, transactional, informational, and so on. These emails are the perfect place to promote your referral programs because customers are already looking at these.

While mentioning your referral scheme works fine in most customer emails, they really come into their own with post-purchase emails.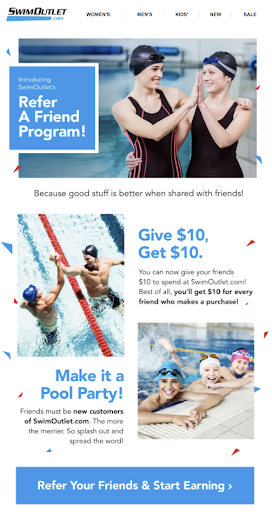 Receipts or order confirmations often come when your customer is most happy, excited about the product or service they've just bought. Consequently, they will be more likely to refer your brand to a friend.

In turn, this boosts the ROI of your emails by adding an extra lead generation source. Create an attractive order confirmation email reminding customers of their purchase and capitalize on that post-purchase glow to elicit referrals.
It helps you discover brand advocates
The customers sending you referrals will be a diverse bunch. Some might only send you one or two referrals, while others might send you four or five. Of course, each is valuable to your business by helping boost your sales.

But you might well find a select few customers repeatedly sending you multiple referrals. These customers are hugely important because they're your brand advocates. They're fans of your business and willingly shout about it to their friends and followers, both online and offline.

Find those brand advocates with a high follower count on social media and reach out to them. These brand advocates are often influencers, commanding big social followings, and are significant drivers of sales for online businesses.

Connecting with them and sending them a reward as a thank-you increases their support, which in turn boosts your potential referrals. It shows them, and their followers, that you care, enhancing your brand in their eyes.
It's a time-and cost-effective marketing strategy
For many eCommerce businesses, marketing is often the most expensive and time-consuming aspect of running an online store. Between paying for PPC or social ads and creating blogs for your content strategy, marketing can be demanding.

But referral marketing saves you both time and money by exploiting something that's already there. Because your satisfied customers are already shouting about your brand — referral marketing simply taps into that.
Those same customers generally refer people who are likely to be interested in your brand, doing most of the work for you by finding qualified leads themselves.
And when those new joiners enter your referral scheme, the cycle continues. It's simple and self-propagating, saving you time, money, and hassle.
Referral marketing is easy to implement, saves you time, and cost-effective. It's also perfect for increasing leads and sales for your eCommerce business. When done right, referral marketing can greatly enhance your online store. Don't delay — get started with a referral marketing scheme today.