Referral Marketing
5 Factors to Consider When Choosing a Referral Program Platform
There are many referral marketing platforms on the market, and it can be difficult picking the right one. Read how to choose the right program for you.
---
There are many referral marketing platforms available on the market, and it can be overwhelming to choose the right one. As is always the case when choosing new technology to add to your marketing capabilities, it will require a substantial commitment of time, money, and tech resources.
While we will not be comparing specific providers in this post (disclaimer: we are one of them), we will briefly highlight five essential platform capabilities one should consider when deciding on a referral platform to use for their brand. Alternatively, if you are thinking about building a referral program in-house, keep these factors in mind when determining if the cost of development outweighs the cost of partnering with an experienced and established platform.
1. Referral Data Accuracy and Reporting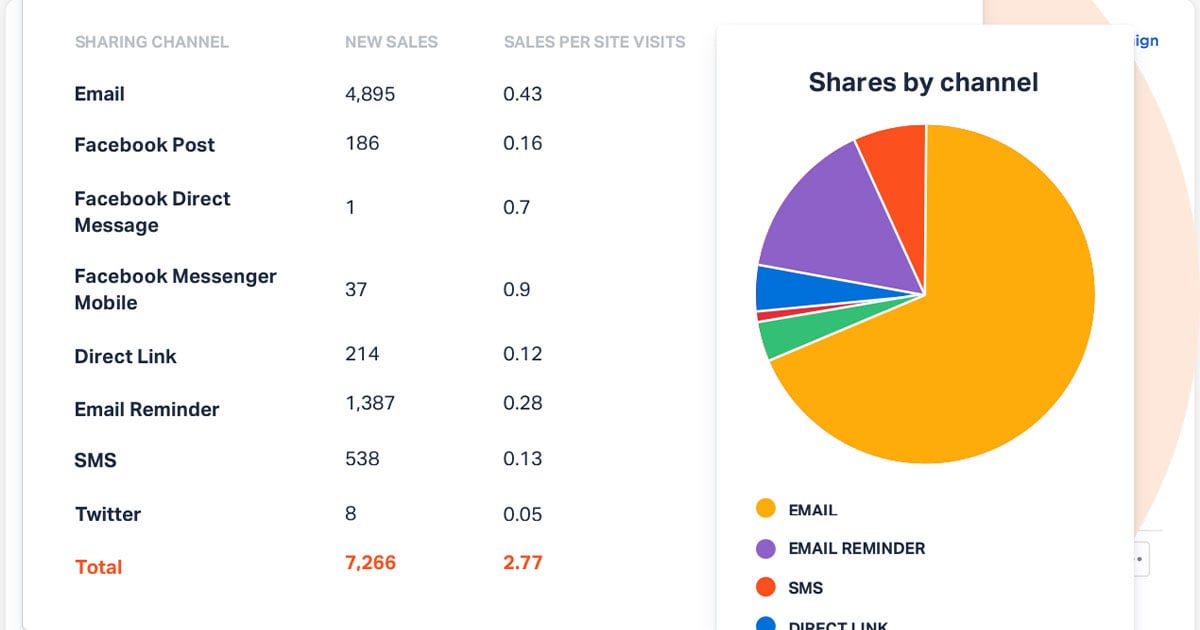 The most successful referral programs understand the value of data-driven insights and ongoing optimization. A robust analytics and reporting suite is an indispensable feature that should be included in a referral platform's capabilities. At a minimum, the platform should track all visits, referrer and other traffic sources, and purchases made on the brand's website or other eCommerce destination. It should also show all metrics from referral efforts broken down into campaigns, placements, channels, and more.
In addition, it is important that a referral platform should be able to easily integrate data into the client's Customer Relationship Manager (CRM) hub to create one unified source of customer data. The more thorough the collected data is, the more opportunities a brand will have for personalized and meaningful interactions and conversions down the road.
2. Branding & Custom Design
A customer-centric approach requires seamless customer experience, from messaging, to look and feel, and everything in between. Two questions that should be asked when choosing a referral marketing partner are:
Does a referral software allow you to align campaigns with your brand's look and feel?
How easy will it be to customize designs, quickly make copy edits, and launch seasonal campaigns?
To make content creation and adjustments more efficient, a referral platform should offer design customization and quick campaign edits. This may come in the form of built-in campaign editing capabilities as well as the assistance of a customer success team if more help is needed.
To make content creation and adjustments more efficient, a referral platform should offer design customization and quick campaign edits. This may come in the form of built-in campaign editing capabilities as well as the assistance of a customer success team if more help is needed.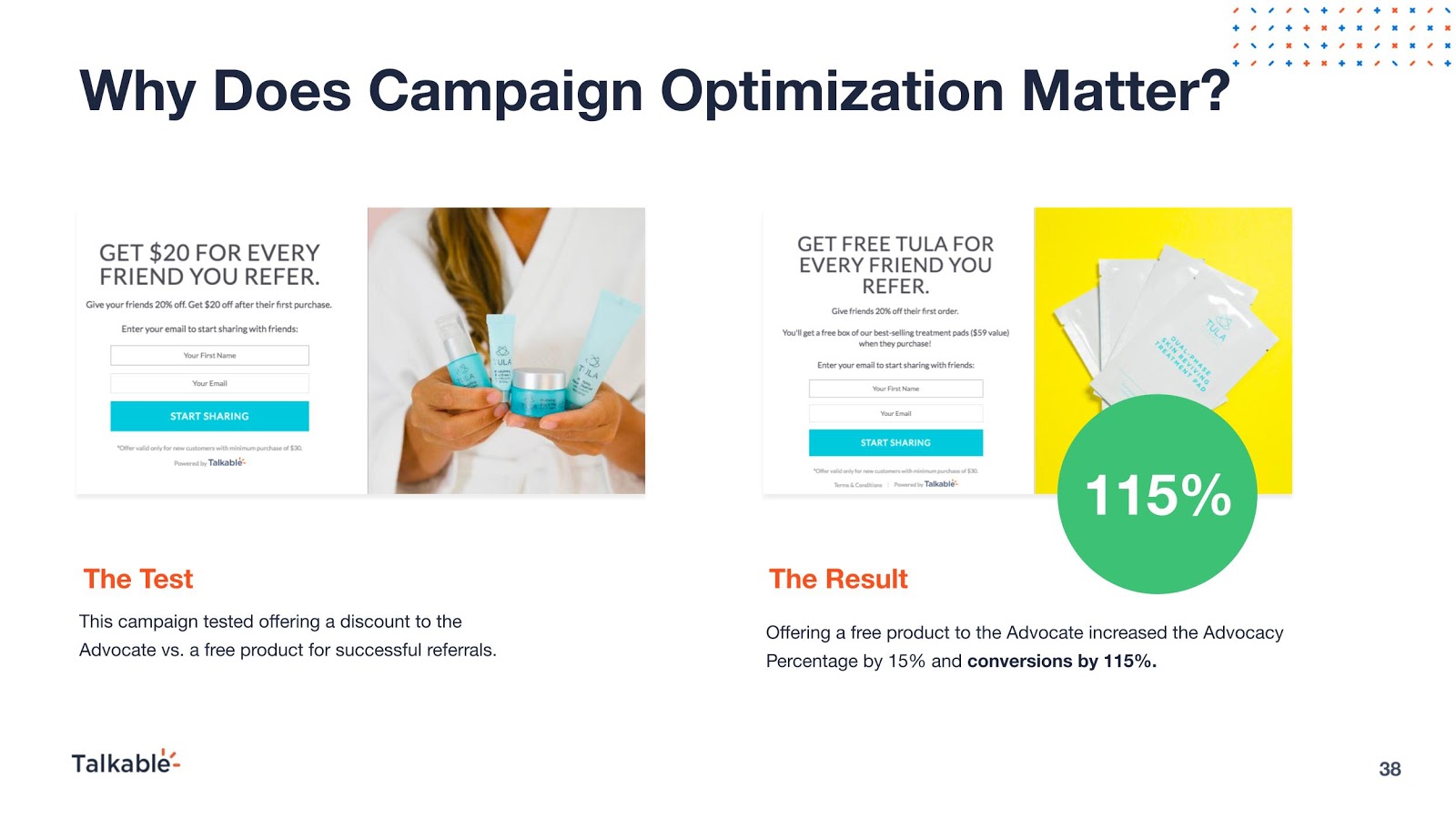 3. A/B Testing Referral Content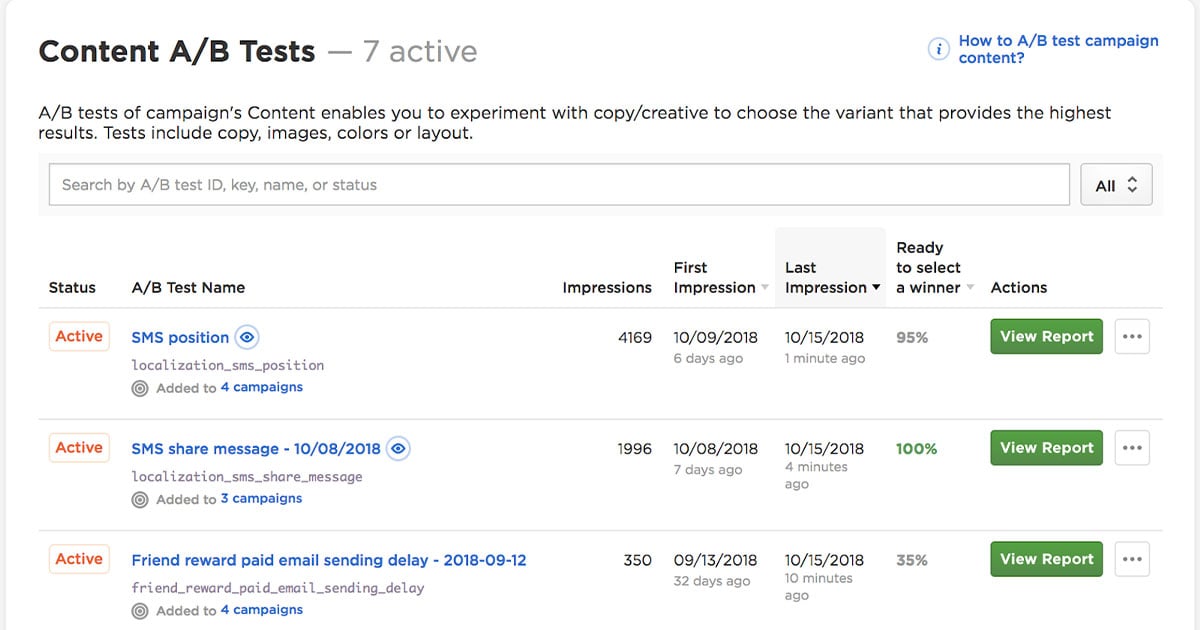 When it comes to content related to a referral program, it is important to be able to optimize it for the highest rate of conversion. This is why A/B testing is a critical feature. Through tests, a business can find the best performing variant of their campaign. By changing variables like images, button size, copy, or subject lines, and comparing its performance against a control version, a business can feel confident that their referral campaign will have a strong ROI.
Most referral marketing platforms will be able to test basic variable changes in messaging and imagery, etc. More sophisticated referral marketing vendors may be able to conduct multi-variant testing where you can test multiple elements at the same time. While conducting tests, businesses should aim to share the content with a large enough audience that the results can be considered to be statistically relevant. This process could take a matter of days or weeks depending on the amount of optimizing needing to be done before landing on a satisfactory content layout.
4. Referral Fraud Protection
As much as 45% of customers will try to game the system and refer themselves while in a referral program. This is considered to be referral fraud, and it can significantly decrease the performance of referral campaigns.
Most platforms will allow for a manual review of each user, or they can rely on a referral platform's own fraud protection system. Talkable's fraud protection algorithm has already blocked more than 5 million fraudulent referral attempts. This has saved Talkable customers over $110 million. This demonstrates the importance of having a referral software solution that is advanced in fraud-prevention. Additionally, here are some steps that can be taken to protect a referral program from fraudulent activity:
Verify that brand advocates are also existing customers by checking customer emails and running them through a customer database.
Make sure rewards are received only once. This can be done by utilizing cookies to check for the same device, location, or IP addresses.
Cap a maximum amount of rewards for each advocate and friend.
Manually check for suspicious activity on a periodic or case-by-case basis.
5. Level of Support
The level of support provided to customers may vary depending on their chosen referral platform and (potentially) the pricing level they have opted into. Support may be provided through email, a dedicated account manager, or even a white-glove service that will assist with implementation and customization work. It is important to know what level of support a team needs to run an effective referral strategy before choosing a partner.
Prospective customers should be realistic and ask themselves if they or their team have the bandwidth to consistently test and optimize campaigns and handle other technical aspects of the platform. Once the level of support needed is determined, review different pricing tiers to find the best fit for support. If necessary, it is fair to ask questions about what type of support is included in the package to determine if the platform will assist with fixing bugs, running A/B tests, integrating campaigns seamlessly into an existing tech stack, or other potential concerns.
Other factors to consider in regards of support:
Does the software team provide strategic sessions to assist their clients?
How quickly will a member of support be able to onboard and integrate the referral platform for a client?
Conclusion
These five factors should be primary considerations when choosing a referral program provider. There are many other features and platform capabilities to consider as well, such as e-commerce platform integrations, audience segmentation capabilities, and more. What is most important, however, is that it fits the unique needs of a given business and the vision for their referral program.
If you are interested in using Talkable as the engine that drives your referral program, we can answer any questions you may have. Just fill out this quick form and we will be in touch.