The new year is almost here and it is time for all businesses to review their marketing strategies and plan for the future. If a business has a compelling product with customers who are passionate about their brand, a referral marketing strategy can help expand their customer base and promote healthy growth within the business.
What Does "Referral Program" Mean?
When we talk about referral programs, we are referencing a defined process for rewarding existing customers for sharing product or service offers (on behalf of a company) with their social connections. One can think of this as a formalized word-of-mouth marketing strategy.
Referral programs are widely considered to be highly effective and authentic forms of marketing with a clear return on investment. This is for a few reasons:
Transactional value: In many cases the referrer (existing customer) and the person being referred (the prospective customer) both will be rewarded for their role in a given promotion. This will often come in the form of discount coupons, cash-back offers, or reward points which can be utilized to claim or be entered to win exciting prizes.
Authenticity: Because existing customers are at the forefront of distributing referral offers, they can speak from experience about the product or service. If they are compelled to participate and recommend offers to their friends and family then it is highly likely that they have already had a positive experience with the company managing the referral marketing program.
Trust: While marketing and advertisements that come directly from a company may fall on deaf ears, a referral offer that comes directly from someone who is a real-life connection carries significantly more influence. There is inherent trust in peer recommendations, and referrals from peers tap into that trust as well.
How Do Referrals Work?
The process for how referral marketing programs work is relatively straightforward. After establishing the program, a company can provide their existing customer base with an incentivized offer to share with their friends. Typically, once the offer has been claimed by the friend the referrer will then be provided with a reward of their own for delivering a new customer to the business. As more customers take part in the referral marketing program, the greater the potential is to reach new customers who could directly benefit from the products and services being offered.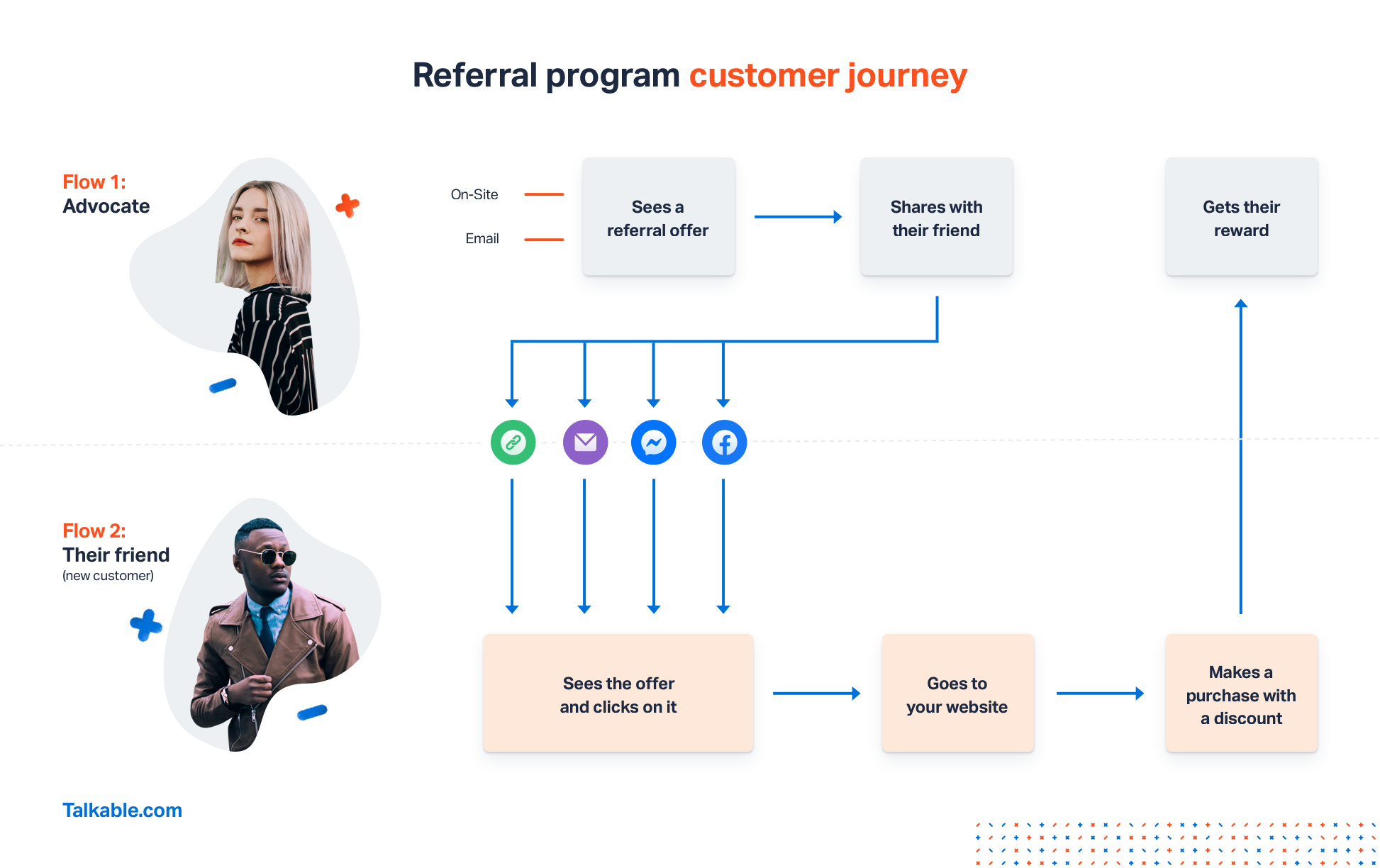 This word-of-mouth process is not only beneficial for customer acquisition, but it also helps with improving customer loyalty through the bonuses received within the referral program. With this approach, businesses can avoid spending empty advertising dollars into campaigns that may or may not reach the right people. Instead, referral marketing allows their biggest brand advocates to share their passion for a product or service directly with people they know who would enjoy it or benefit from it.
How Do You Create a Referral Strategy?
Refine Your Products and Services: Before a company embarks on creating a referral strategy, they need to have a streamlined sales process and a product or service that is meeting (and hopefully exceeding) their customer expectations. The fact is, if a company's offerings are not already well-liked by their customer base, a referral program will not be the silver bullet they are looking for. Brand advocates want to tout products and services that they love and use regularly, and in most cases will be reluctant to risk their reputation to recommend a sub-par product.
Strengthen Customer Relationships: One way a business can improve their product or service is to solicit feedback from their customers and use that feedback to implement meaningful improvements. This is not to say that every piece of feedback needs to be addressed, but a business should look for recurring trends of things their customers like and dislike. If suggestions are addressed effectively, customers will rightfully feel acknowledged and valued by a company and the business itself should be stronger in the process.
Customer relationships can also be strengthened through interactions on social media from the primary brand account. Social media will also be a key resource for identifying brand advocates, so it is beneficial to begin identifying these people early on in the process.
Partner With a Referral Marketing Company: While it is possible to implement a referral based marketing strategy independently, companies can get up and running much faster and with many less headaches by partnering with a referral marketing company such as Talkable. We have the framework, resources, and experience needed to run referral marketing programs effectively and can help implement a referral marketing strategy that will thrive as the program continues to grow.
Determine the Reward Structure: Even if a brand has loyal customers, it is not likely that they will actively refer their product or service to others without a compelling incentive. Additionally, special offers for first-time customers could be the added push that will get them to give a product or service a try. If a loyalty program has already been established, a referral marketing strategy can reward progress points to brand advocates within the loyalty structure. Other referral rewards could include discounts off of a future purchase, in-store credit, early access to events, or other exclusive perks that will resonate with the brand's customers. Also keep in mind that reward preferences may be changing in the post-COVID era. The

Harvard Business Review

reported study findings that among 44% of companies that had recently changed or planned to change their loyalty strategy, the primary motivation was to create a more digital experience. Gift cards that are immediately redeemable and can be used online may now be more desirable than experiential rewards. When choosing rewards, a business should assess the true value of a referral and build out their incentives accordingly with their ideal customers in mind.
Build a Communication Plan: Once the reward structure has been solidified and the functional aspects of the referral marketing program have been put in place, it is time to spread the word to existing customers about the opportunity to enroll and get involved. Remember, with true brand advocates it is likely that they are already recommending their favorite brands to others, so formally rewarding them for something they are already inclined to do will be welcome news.
Have a Transparent Process: There should be no confusion among the referral program participants regarding how they can get involved in the program and the rewards that they can earn. Brands that do this well often present this information in an easy-to-understand landing page on their website, or have a program that is straightforward and uses its simplicity to its advantage. Every participant should clearly understand how the referral process works, including how they and the people they refer will benefit from this transaction. To add further transparency, brands should be up-front with how the information that participants provide is being used (if at all).

How Can I Improve My Referral Program?
Once the referral marketing program is up and running, it is important to optimize and improve the program as much as possible to encourage continued involvement. Here are 10 ways to improve a referral marketing strategy in 2021.
Read More About How to Offer Referral Rewards that Motivate
Solicit Feedback: One of the best ways to determine what changes may need to be made within a referral program is by requesting feedback from its participants. By using simple surveys, a company can better understand what is working well and what may need to be adjusted or improved. Consider evaluating participant satisfaction with the rewards, ease of use, and always include sections for freely sharing additional feedback. Understanding the primary methods of promoting the referral program and its offers can also be valuable, such as the platforms most-used by participants to share offers (email, social media, etc.). With this information in hand, a company can provide additional resources and assets to enhance the efforts that are already happening from its participants.
Customer Motivations: One of the best ways to improve a referral marketing strategy is to align its benefits with core motivations of the customers. Depending on the type of business it is, the motivations of the customers may vary. This is another instance where the participant survey can help provide key insights to help inform a referral marketing strategy. While some audiences will solely be looking for discounts as their primary reward, others may be more responsive to unique experiences, altruistic contributions, exclusive access to events, or something different altogether. By discovering what moves the needle for an audience, referral rewards can be created based around those specific values.
Program Discovery: A referral marketing program's success is largely dependent on how much awareness there is of it. When the program is known, understood, and piques the interest of the audience is when any word-of-mouth campaign gains the engagement it needs to thrive. With this in mind, a business should look at promotion as an essential aspect of any referral marketing strategy. Even if some marketing is already underway, incorporating additional channels of messaging can help reach more potential participants.

Website: The brand website should serve as a hub for the referral program, including a dedicated page that includes detailed information, FAQs, and more. Tasteful pop-ups within a website can also be an effective tool for earning new referral program sign-ups, sharing offers, or prompting new customers to make their initial purchase alongside the benefit of referral rewards.
Email marketing: Email lists include already-engaged customers of a business, making them excellent candidates for the referral program. While the primary focus of a company's email newsletters should be on timely and relevant content, occasional features of the referral marketing program can be helpful. Additionally, consider including a short blurb in outbound emails that encourages program signups or includes a prompt to share a discount through a unique referral code.
Social media: Create marketing material worthy of sharing on the brand's social media channels to promote the referral program. Organic posts will reach some of a brand's current audience, while paid posts can help to reach new potential participants or ensure higher visibility amongst current followers. Be sure to include a call-to-action within the post, such as visiting a link (or link in bio) to learn more about the referral marketing program.

Limited-Time Promotions:

If a quick boost is needed for engagement in the program, consider offering limited-time referral rewards such as steeper discounts or special promotions for specific products or services. When these special bonuses are tied to a specific time frame, there is more urgency to capitalize on the offer. Consider planning these events around meaningful times in an industry, holidays, or slower seasons for a given business.

Test Test Test: Testing is one of the best ways to improve any referral program. Through A/B tests, a campaign can be optimised by delivering actionable insights on the effectiveness of specific marketing strategies, copy, and creative. Testing can extend into trying different referral formats, rewards, landing pages, and marketing methods as well. The important thing is to collect relevant and comparable data to help make informed decisions. Testing helps to remove bias from the equation and verify the effectiveness of one approach in comparison to another.
Advanced Segmentation: Catering communication efforts to appeal to different audience segments can be crucial to a referral program's effectiveness. Create custom messaging and prompts for specific customer audiences based on key attributes, location, or even behavioral insights such as when a customer made their last purchase. There is always an opportunity for re-engagement as well, such as connecting with members who have been inactive for a period of time or encouraging a customer to make another referral to reach their next reward. By customizing the experience for relevant communication, a brand can connect with their audience in a way that inspires engagement.
Integrate With a Loyalty Program: While referral and loyalty programs are both marketing strategies that can operate independently, they are at their best when used in tandem. In many cases, each program will appeal to a slightly different consumer. However, when referral activity also helps move the needle for loyalty rewards, passionate brand advocates will be further incentivized to deepen their connection with the brand and pursue referral conversions more diligently.
Measure Results: Data should drive decision-making. This is why it is important that the success of referral marketing activities and campaigns should be tracked, measured, and used to optimize future campaigns. Metrics such as participation rate, share rate, referral conversions, and referral link click-throughs can help paint a more detailed picture of what is working well and what may need to be improved.
Invest In Influencers: If there are members of a referral marketing program who have been highly successful in driving referrals and have a strong following of their own, the business should consider reaching out to them directly. By collaborating on a personalised opportunity for their audience or simply rewarding them with a 'thank you' gift, demonstrating recognition or appreciation can go a long way. In short, acknowledge and provide individualized attention to those who are making a significant impact on the success of a referral program.
Ask for Advice: Sometimes it is difficult to see the forest through the trees. If a referral program feels stagnant, it is often best to leverage the advice of experts to get back on track. An outside perspective may be better-equipped to objectively assess each facet of a referral program and provide advice for improving the process, marketing, rewards, or other key components of the program.
Conclusion
Taking a closer look at how well your referral marketing program is performing and what can be improved is essential to its long-term success. Even for programs that are thriving, ongoing tracking of performance and being open to making adjustments when needed can keep a referral program going strong. With Talkable, businesses can establish a referral program, customize it to their liking, optimize it as they go, and scale their eCommerce growth exponentially. For a free demo, contact us today.