If you don't know what referral marketing is, you might be missing one of the most cost-effective ways of getting new customers. In this article, we'll tell you more about referral marketing, cover the difference between word-of-mouth marketing and referral marketing, show you the benefits of refer-a-friend programs and how referral marketing can generate revenue.
Remember the last time your friend shared a promo code with you or a discount on a first purchase? If you used that code and made the purchase, it is most likely that you've been a part of a referral marketing campaign.
If you don't know what referral marketing is, you might be missing one of the most cost-effective ways of getting new customers through word-of-mouth.
The mind-blowing referral marketing statistics speak for themselves:
75% of companies using referral programs say

referrals

are their lowest-cost method of acquiring new customers;

companies with referral programs saw 86% more revenue growth over two years.
In this article, we'll tell you more about referral marketing, cover the difference between word-of-mouth marketing and referral marketing, show you the benefits of refer-a-friend programs and explain how referral marketing can generate revenue.
What Is Referral Marketing?
Referral marketing is the method of promoting products or services to new customers by asking a current community to share referral incentives with their friends.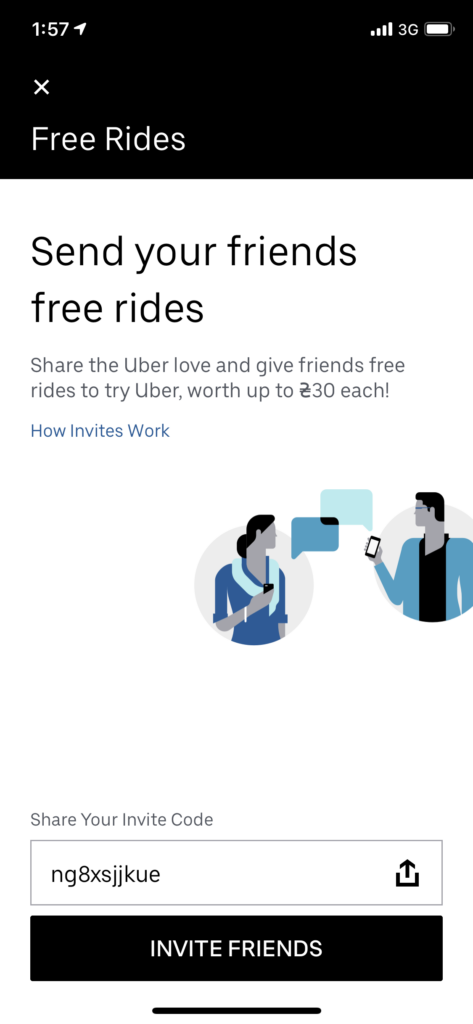 A typical example of using referral marketing is sending your close contacts your personalized referral code for Uber. While Uber's referral marketing campaigns differ in different countries, one of their most common offers is giving your friends $10 off their first rides, using your promo code. In return, you receive $10 of credit for your next ride.
Referral Marketing or Word-Of-Mouth?
Whenever you come across a product or service you like, chances are you will mention them to your friends or relatives. If you don't get any incentives to do that, the whole process can be called word-of-mouth marketing.
If you heard about a product from a friend and didn't receive an incentive, chances are you just experienced word-of-mouth marketing. However, if a friend sent you a Facebook message or an email with a referral code or a discounted offer, this would be an example of referral marketing.
A great example of word-of-mouth marketing is the story behind the Parisian "My Little Paris" media brand. They started in 2008, with one person emailing to her 50 friends about a secret neighborhood she discovered. In six months their mailing list grew to 10,000 people because women were begging to be added to it. Three years later the newsletter had 800,000 subscribers. In 2017 this number skyrocketed to 4 million.
What is the secret behind its success? Apart from newsletters being the genius of content marketing with their witty, compelling writing, it also about sharing a small secret with a friend. The end of each newsletter had a button with "Share with a friend (or five)" written on it. That is word-of-mouth marketing.
Comparing Word-of-Mouth Marketing With Referral Marketing
Referral marketing and word-of-mouth marketing are very similar; however, there are some key differentiators between the two. Both referral marketing and word-of-mouth marketing use existing customers as advocates to help promote their business. However, the big difference between the two is that word-of-mouth marketing is organic; whereas, referral marketing introduces an incentive to make the outcome more repeatable.
To make it more clear:
Word-of-Mouth Marketing
Brands rely on their customers to share and talk about them on their own accord
Referral Marketing
Brands encourage customers to share information about the brand by introducing a reward for it
Subscribe to the newsletter
The Benefits Of Using Referral Marketing
Referral marketing is a high-performing channel that can help your business grow by attracting new customers and helping generate more revenue for your company. For instance, Dropbox managed to achieve a 3900% in user growth in 15 months by launching a double-sided referral program.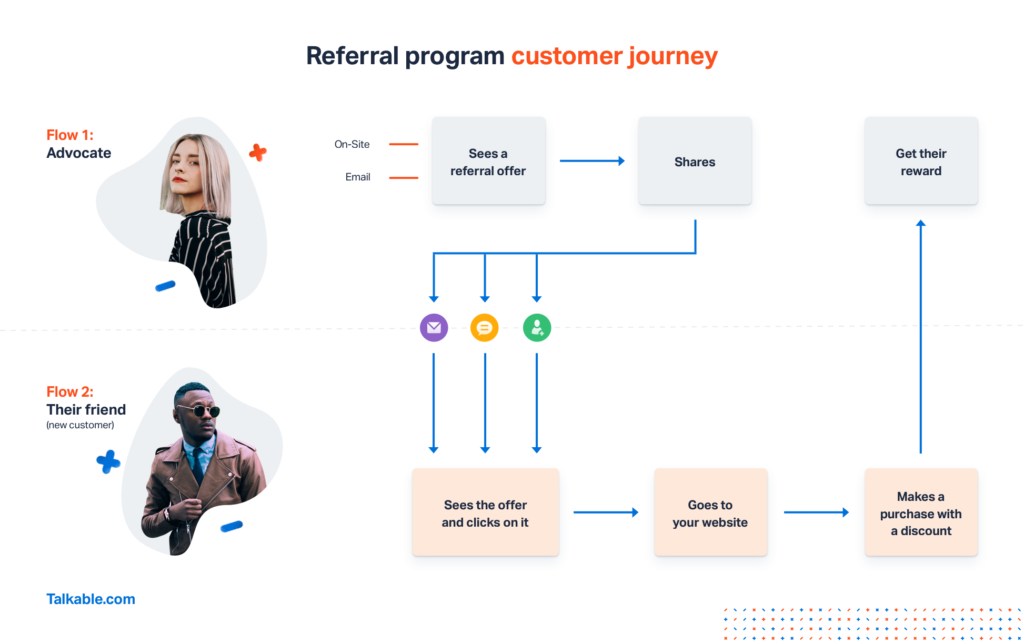 When creating a marketing plan, marketing specialists consider channels via which they can reach their target audience. They create yet another paid advertisement on various channels in hope to be noticed. However, since reaching their target audience is their main goal, there is one tool they might be forgetting about leveraging their existing customer base.
If you need more reasons giving referral marketing tool a try — here they are:
Reason #1 – referral marketing will expand your loyal customer base

Whether you work in the B2C or B2B industry, all businesses have something in common: the need for growth. Nowadays, businesses are commonly picking digital channels like paid search and social media. Growth marketing and lead generation have become preferred tactics to attract new leads.

Rather than spending all of your money on traditional marketing channels, consider using your budget to give back to your existing customers. In other words, try investing in a referral based campaign. Referral marketing helps generate new leads and build up your new customer base. Not only it will improve customer loyalty but it will bring you high-quality new customers — directly from your target audience. One reason referral marketing attracts more loyal customers is that they're a direct match made with an already loyal one.

Reason #2 – referral marketing is one of the most trusted tools

Referral marketing is an excellent channel to consider for your audience because it is one of the most trusted channels by people. In fact, as an online survey from Nielsen shows, 84% of people trust product and brand recommendations from people they know.

Your friends and family know you better than businesses who are trying to persuade you to become their client. Someone who knows you well is more likely to suggest a product or service that actually interests you. This is why when people take part in refer-a-friend programs, they result in exceptional matches for a company. It's no surprise that human relationships are better than targeting and big data.

Reason #3 – referral marketing has the best conversion rate (or: is the most effective)

In comparison to other marketing channels, referral marketing has the highest margin and the best conversion rate from prospect to purchase. With referral marketing, you're generating new customers and revenue at the same time. The new customer base that you're building also has a 16% higher lifetime value and better retention. Lastly, a survey of 600 B2C companies reported that 62% of businesses said referral marketing was their most effective marketing strategy in comparison to their other marketing channels.
Why You Should Try Referral Marketing No Matter What
Naturally, you want your refer-a-friend campaigns to be a success, but if things go south this doesn't mean all of your hard work was for nothing. A referral can act as the introduction to your brand, which results in better brand awareness. Although brand awareness wasn't the conversion you may have been looking for, it's the beginning of a potential customer relationship.
Setting up a referral marketing program can be a lot of trouble if you do it on your own. However, it's not as tiresome if you have a reliable and strategic partner. We have done it for 250 brands. Contact us to get more information about referral advertising – we'd love to share our best practices with you.
Meanwhile, here are referral program case studies for handcrafted bracelets store, phone case retailer and cosmetics brand.