Best practices
How Referral Marketing Works in Education Services
As a referral marketing provider, we can show how a referral program can get your message to potential customers in the online education world.
---
Your educational project is going to either hit its mark or get lost in the web's hustle and bustle, and tertium non datur. So as not to get left behind, you can put your efforts into running a referral marketing for your education service.
Research and Markets forecasts that the revenue for e-learning will grow to $325 billion by 2025. Compared to revenues of about $165 billion in 2014, this means that the e-learning market will have doubled in a decade.
The online learning market has turned out to be one of the fastest-growing market segments, but a relative lack of marketing has made it difficult for e-learning companies to make a big impression. There are several reasons why the brand awareness speed can be slowed down, from users' distrust in the quality of services to the pricing models of educational courses, services, and programs. To allay customers' concerns, education businesses try to focus on demonstrating the value their products can provide. They often do this with content marketing (including free educational samples), email marketing techniques, and traditional paid ads which promise to provide mastery in a short period of time (like "Learn Spanish in 30 days!").
As a referral marketing provider, we can show how a referral program can cut through the noise and get your message to potential customers in the online education world.
Your Customers Are Your Best Brand Advocates
When hunting for new customers, putting a bunch of time and money into different ways of attracting their attention, marketers often forget their most valuable customers — the ones they already have! It may sound obvious, but focusing on an acquisition-first approach leads doesn't lead to the best results. You might meet your sales targets in the short term with lots of paid ads, but you won't build the long-term customer relationships that will really help you down the road. When you focus more on customer loyalty, you create value around your brand from the get-go.
You don't need to come up with clever ways to bring in new students. Good educational material will attract people, especially since your happy customers will recommend your platform as a great place to learn or get training.
People tend to trust each other by nature. If your friend sends you a link to an article, Spotify song, art podcast, or a new webinar, you're probably going to check it out. Personal trust is the source of referral marketing's power, and now recommendations are now digitized. Customers who recommend you get motivated, and their friends get interested in your products.
It's About Gifting: Reward Your Customers
According to our statistics, ed businesses can expect a 3-15% boost in sales from referrals. This is a big reason why it's good to give your customers something back in return. Rewarding your customers is a way of saying "thank you!" When you start a referral marketing program, you have to choose the right incentive for your customers — what can you offer them to both inspire them to share your business and thank them at the same time?
Make sure your reward is realistic and matches your customers' interests. To simplify your decision, take a look at five common reward types below:
Gifts — stickers, notebooks, or any other stuff related to your business.
Added value — additional services, for instance, a free consultation.
Bonus points — bonuses that can be used for future purchases.
Discounts — everyone loves lower prices!
Credit — an amount of money given to customers to spend on their next purchase.

Udacity retains their customers giving them $100 for a new referral and getting their new referrals engaged to start learning by giving them a discount.
Since Colibri customers seldom buy second courses after they purchased the first ones, the Talkable team came up with the idea to provide a gift card incentive to advocates. For brands where there is low purchase frequency and high AOV, oftentimes Talkable will recommend integration with a digital rewards company like Rybbon, or Tremendous.
Read Colibri Group case study and find out how professional education company got up to 20% revenue uplift from the referral program.
Make Your Referral Education Campaign Eye-Catching
In the 2000s, the Internet exploded with articles about how the human attention span has shortened to 8 seconds. In 2017 BBC has done away with the myth about it citing Dr. Gemma Briggs, a psychology lecturer at the Open University. Whether people have this special highly adept eight-second filter or not, your referral message should be relevant, strong, and capture from one shot.
Creativebug uses a very simple message — just six words long — to show how referral advocates can get a free class. There are no complicated terms and conditions or dragons to slay, just a three-step process: fill in your name, your email, and share a class with a friend. With three simple steps, a free class is yours.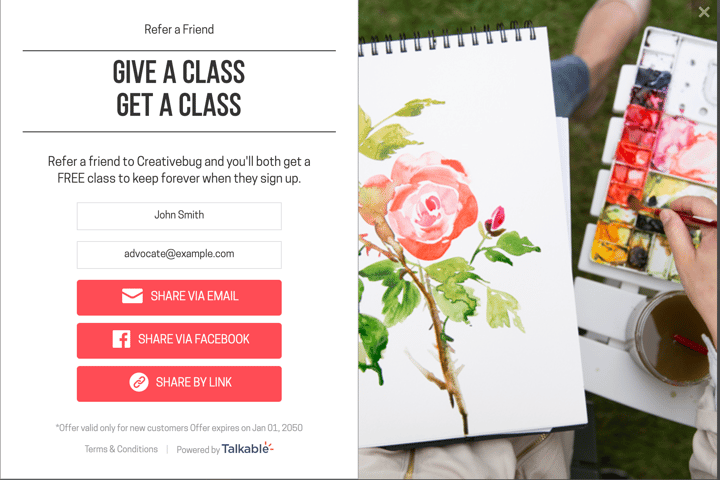 The picture Creativebug chose doesn't show portraits of dead geniuses or provocative symbols, but just a photo of a class. It's vivid, direct, and appropriate.
Publish Case Studies and Results
Marc. C. Brotman, a founding partner at Brotman Nusbaum Ibrahim, in an interview with Entrepreneur, recommends publishing case studies on your company's website showing clients that you are "results-driven," saying that this " also helps attract referrals. If someone lands on our website looking for representation in a practice area that we don't focus on, there is a good chance they can provide us with a referral down the line if they are impressed with our published case results."
Referral Marketing Snippets
These tactics won't generate good results unless your promotions are well-calibrated to your audience. There are things that polish your selling up to the customers' needs and make the tone of your marketing sound more client-oriented.
Promote education courses that are relevant to your audience and your content.
Write referral emails that customers want to open. This requires writing good subject lines, creating urgency, and using interesting copy to talk about your educational content, and original CTAs.
Choose different places to promote your campaigns, like on your homepage, in pop-ups, or on social media.
Don't sound salesy when you create content for your blogs or emails. Instead, focus on the benefits and value that your courses offer to your audience.
Ask your customers to tell their friends about you at the right moment — when they finish a level of a course or reach a goal.
Choose a gift that will inspire them to share. This could be an additional class, an extra lesson, a discount, or exclusive material that hardly can't be found elsewhere.