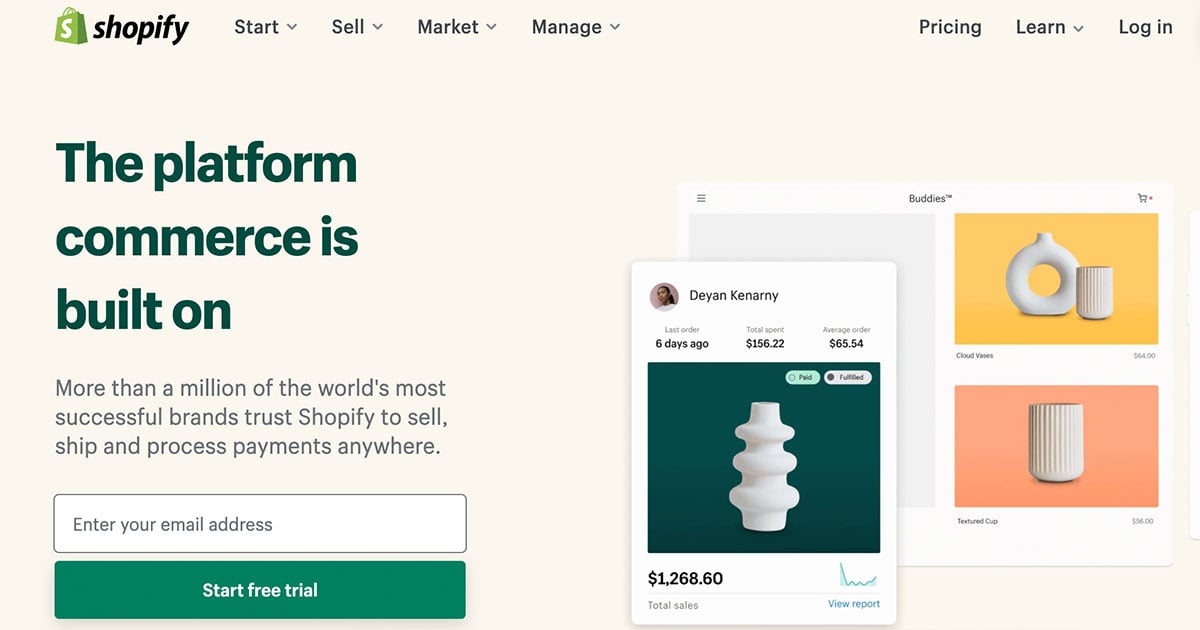 Of the one million most visited websites on earth, 3.6% of them are using Shopify. They are currently integrated with 1.5 million websites, making them one of the largest eCommerce platforms in the world. For retail (e-commerce) point-of-sale, they are on everyone's shortlist.
Referral marketing works best when customers have an easy journey from the first contact to final sale. Shopify provides the payment platform, but it is the marketing apps that are integrated with Shopify that set the process to move the consumer along.
There are hundreds of choices when it comes to integrated Shopify applications.
While the numbers are staggering, quality is more important than quantity. We made a list of some of the top Shopify referral marketing apps to look at if you are launching a referral marketing program.
Referral Program App #1: Talkable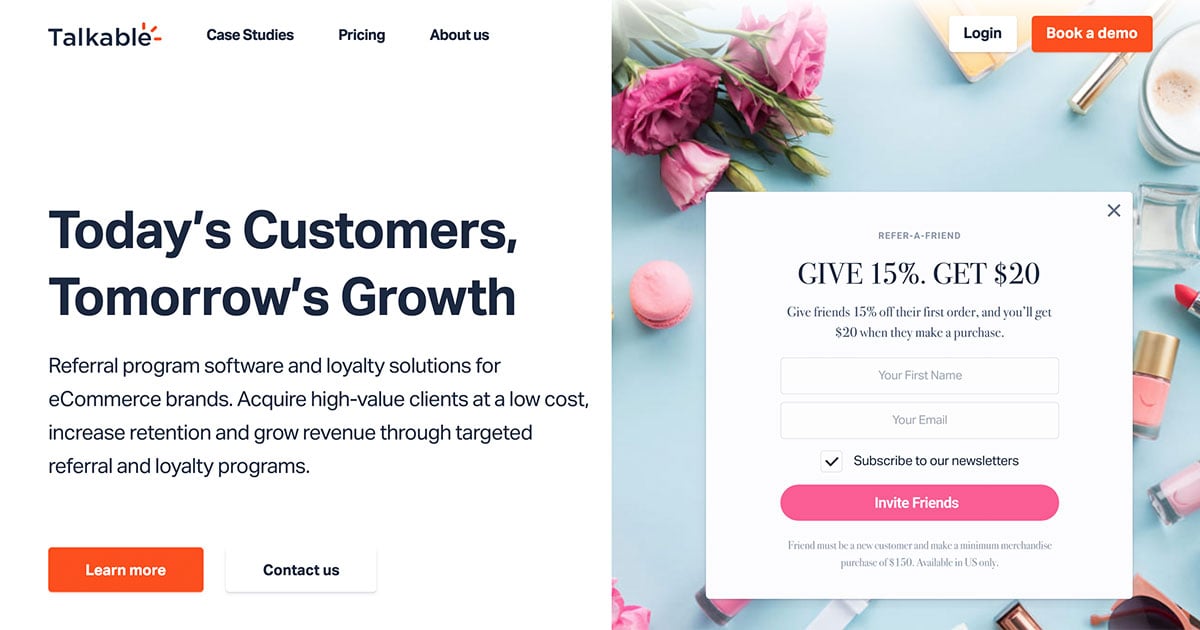 Each of the referral apps on this list has been placed here because they have specific functions that they do well, but Talkable is the only one that checks all of the boxes. The setup is quick and easy, referral integrations are plentiful, and there is a team of growth experts available to help you implement and optimize your program.
Talkable integrates easily with Shopify, Salesforce, Mailchimp, Klaviyo, WooCommerce and other familiar names in the referral marketing ecosystem including tag managers like GTM and Tealium. The origin API suite from Talkable allows for a fully integrated experience for your teams and consumers. Connections are seamless, so you do not have to wrestle with broken data feeds or inaccurate reporting.
The Talkable Dashboard makes reviewing program performance and managing your program a breeze along with an attentive support team, ready to help every step of the way.
Talkable offers a fully managed plan that includes the initial integration, an industry-leading A/B testing suite, enhanced targeting, robust fraud protection, and customized reporting.
Perhaps the most compelling reason to use Talkable to find new customers is their documented success with established brand names and subscription companies. That list includes Crate and Kids, PuraVida, Rothys, Rue21, TOMS, as well as an enterprise plan for larger brands.
Referral Programs App #2: ReferralCandy
Like most referral marketing apps, ReferralCandy provides a dashboard to monitor traffic generated by your existing customers and manage your rewards programs for customer referrals to your online store. Modifying your customer referral program is simple and relatively intuitive.
Why use this app? The most appealing feature of ReferralCandy is the automation component, but integrations, which are necessary if you are running your own referral programs, are about as basic as it gets. This is a decent app for smaller companies and novices starting their first Shopify store.
Referral Programs App #3: Smile
Smile is billed as a rewards and loyalty program app with a tiered subscription model that ranges from $59 to $599 per month, based on the number of program members.
Smile tracks referral flow by giving each customer a unique referral link. They employ emails and pop-ups to make it easier for existing customers to share their link with friends and family.
There is also a bonus points system built into Smile, with the option of setting expiration dates to create a sense of urgency.
Referral Programs App #4: Loyalty Lion
Loyalty Lion's "Loyalty, Rewards, and Referrals" app offers exactly what its title suggests. You can set up a loyalty points program, assign a referral link to customers, and offer discounts on products and services. It is a good tool for using your Shopify store to cultivate customer relationships.
An interesting feature that is somewhat unique to Loyalty Lion products is a "tips and tools" function that provides marketing insights and suggestions for improving your influencer marketing strategies. Users who need a more supportive and hands-on approach may want to turn to a managed platform like Talkable.
This is an app that can fit well with any business model, whether you are running a simple online store or marketing multiple brands through brick-and-mortar locations. It tracks social media referrals from Facebook, Twitter, and Instagram, and rewards followers.
Referral Programs App #5: Conjured Referrals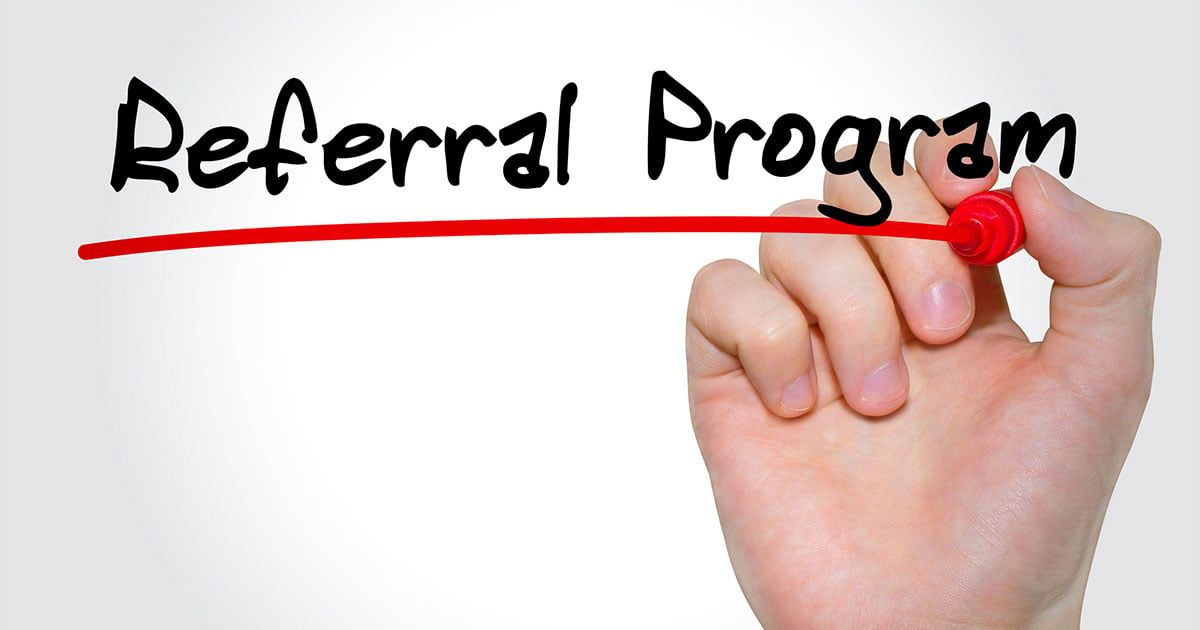 One of the better ways to encourage customers to send referrals is by offering discounts for both parties. Conjured Referrals is best described as an automated influencer marketing app for your Shopify store. It makes it simpler for both existing and new customers to get referrals through social media sharing on Twitter, Facebook, WhatsApp, and through email and SMS.
If you are offering prizes as an incentive, that information is easy to load into the dashboard. Like most referral programs (including Talkable), current customers are screened out from new referrals, so you never have to worry about anyone "gaming" the system to win rewards or prizes. This is all tracked on the dashboard.
Customization options are plentiful and coding knowledge is not required. Once campaigns are set up on Conjured Referrals, you can essentially "set it and forget it." The automation takes over from there. Conjured Referrals plans start at $29 a month with tiered growth options at $99, $299, and $1000 a month.
Referral Program App #6: Growave
With a free basic plan, Growave is a cost-effective option for those that are prioritizing cost over functionality. Simply, it can help you set up a good referral program that rewards loyal customers.
Growave is good for businesses looking for user-generated content (UGC) about their product. It helps you tap into marketing channels with existing customer insights that could generate more referral traffic for your business and will reward those customers for you.
One of the more interesting features of Growave is the ability to create a shoppable product gallery using images from an Instagram page. That can increase the range of an online marketing campaign by extending social media reach, but requires some pretty heavy lifting on the part of the user. Customers are rewarded for shares.
Referral Program App #7: Rise.ai
Start with a 7-day free trial and then subscribe for $19.99 a month, but there may be additional charges to unlock specialized features. Premium plans that include everything run $599.99 a month and you will basically be adding an AI employee to handle your referral campaigns.
Rise.ai calls its Shopify referral app a "Gift Cards and Loyalty Program." Instead of using a standard referral link, the app gives users the ability to send customized digital gift cards to new customers.
If you do have an online marketing strategy, this app can be used to cultivate brand ambassadors from your list of loyal customers. Imagine a referral campaign where you grant the ability to give away purchase incentives.
Referral Program App #8: Yotpo
Yotpo allows users to set up referral offers, then select from a list of multiple networks that the app supports. Yotpo enables communication with marketing emails that are created automatically, providing customized fonts and photos to ensure brand consistency. However, Yotpo's referral program is gated in a loyalty program, so brand users of Yotpo can not have their site visitors simply shop and refer; they have to sign up or log into a portal.
Conclusion
Whatever you choose, the best way to increase site visits to Shopify stores is to motivate your existing customer base into getting you referred customers. Happy customers make repeat purchases and tell their friends and family why they are happy. Your job is to make sure they stay that way. Put some referral offers out there so they can get rewarded for that loyalty!