Apparel
Referral Campaigns We Love: Fashion Brands
Referral marketing and the apparel industry are a match made for each other. Here are 4 hand-picked fashion referral programs that we love.
---
Referral marketing and the apparel industry are a match made for each other, as proven by some of the fastest-growing brands like Rothy's, Coach, AloYoga, and SwimOutlet. Whether you are a fashionista enjoying a seasonal sale or a mom shopping for basics for your family, the urge to share brands you love with someone you know is quite strong. Referral programs turn this natural, word-of-mouth behavior into a digitized, scalable marketing channel.
Check out a success story of how Tallkable has helped the Luxury apparel brand launch the Friends and Family campaign in record times and drove over 4k offer shares.
With that in mind, we'd love to share 4 hand-picked fashion referral programs that we love and think you'll love, too!!
1. Kipling's instant sharing reward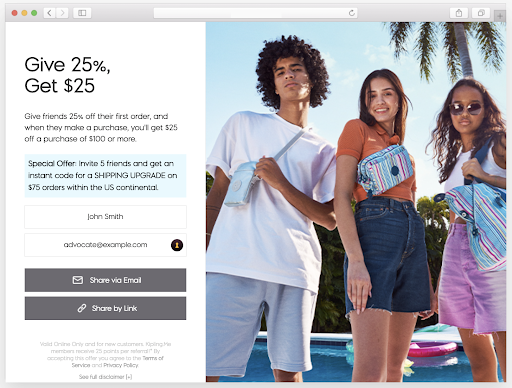 Bags, luggage, and accessories brand, Kipling has added a special offer as an overlay to their evergreen referral campaign. Here's how it works: When the advocate invites 5 friends, she instantly receives a shipping upgrade for her next order. The instantaneous reward stimulates active customers to refer more friends. At the same time, customers could also take advantage of the $25 off from the evergreen offer.
To boot, Kipling has also added a GIF image to the campaign screens.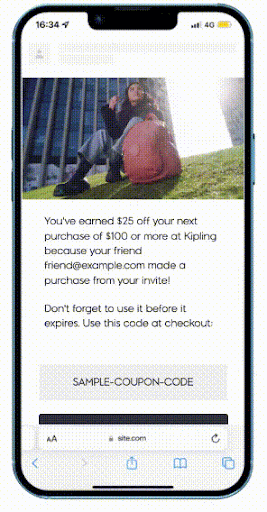 2. Coach Outlet native sharing campaign
The Talkable team has set up a Native sharing button for Coach Outlet's mobile referral campaign. Rather than showing all sharing channel options (think email, SMS, Facebook, by link, etc.) at once, the campaign screen shows just one "share" button. After clicking on it, the customer sees the apps that she uses most, so she can quickly choose one to share a referral link with her friend. This native sharing setup has increased the advocacy rate by 36%.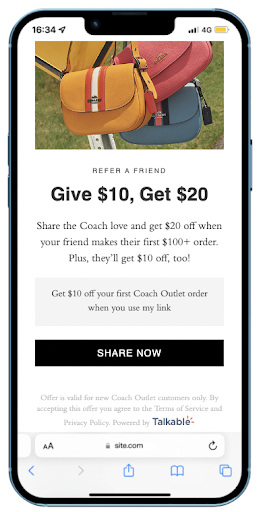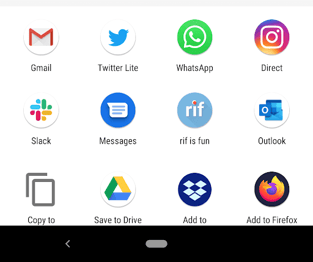 3. Charles Tyrwhitt advocate account dashboard
Menswear brand Charles Tyrwhitt has a referral dashboard on its website. After advocates refer friends, they are able to keep track of their shares in this dashboard. The dashboard also helps to keep customers engage and inspires them to refer more. This dashboard experience is the perfect example of when an elevated brand experience meets a gamified approach the success that can ensue! This is a high-performing referral campaign that really works for this high-end, male-targeted brand.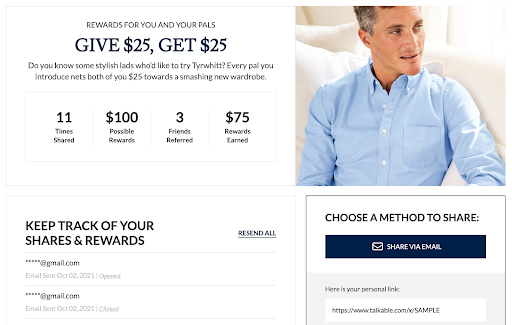 4. Everyday Yoga app promo pop-up
A referral program can help your brand to push or promote a seasonal sale or even a new product. For the yoga app Practyce, the Talkable team created a dedicated referral program pop-up that was promoting both the yoga classes app and the Everyday Yoga apparel brand. Existing customers could benefit from the referral discount and buy new yoga outfits, while their friends got a free app trial membership.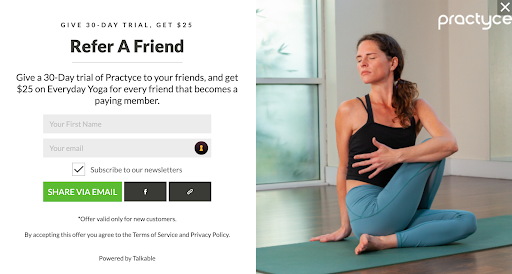 For more fashion referral program examples and insights, read our Referral Marketing Strategies for Fashion guide.
Download our Industry Trends Report 2022 to find out statistics and insights on how sales, referral program revenue, and customer behavior in the Fashion industry have changed over the last three years.