Product Sharing 101
Product sharing encourages word-of-mouth sales by incentivizing customers to share a specific product, rather than just linking to the brand.
---
Brand advertising and marketing efforts are integral for generating interest and spreading awareness of a product, but gaining a consumer's trust is likely more important to the conversion of a sale. With that in mind, traditional approaches of gaining consumer attention are most efficient when they are used in concert with effective word-of-mouth recommendations. According to a Nielsen study, about 88% of consumers placed the highest level of trust in word-of-mouth recommendations they receive from someone that they know. Still, mobilizing and integrating an effective marketing approach around this idea has not always been a straightforward process.
What Is Product Sharing?
Product sharing in the online marketing context means encouraging more word of mouth sales by incentivizing customers to share a specific product with their friends, rather than just linking to the brand itself. If a consumer sees an individual product on an eCommerce site that they know one of their friends would like, they can refer their friend back to that exact product or set of products.
Talkable streamlines and enhances this process, while adding additional incentives for both brands and consumers to participate. For example, brands can choose whether they want to restrict these incentives to just that particular product or apply it to a broader set of products.
Even better, these recommendations can include incentives (such as discounts) on the product for the new customer as well as loyalty rewards for the referrer. These bonuses make it easier for the friends receiving the shared product to decide to purchase the item they are presented with. Additionally, brands can choose whether they want to restrict these incentives to just that particular product or apply it to a broader set of products.This also ensures that all parties involved benefit from the product being shared, all while expanding the customer base and hopefully creating more brand ambassadors in the future.
On the brand side, you will also be able to track the effectiveness of these referral links. This allows you to determine how much of an impact word-of-mouth marketing and referrals are having on your business. Having detailed data can help inform your approach to marketing strategy and advertising spend as well as the incentives you are offering within product sharing.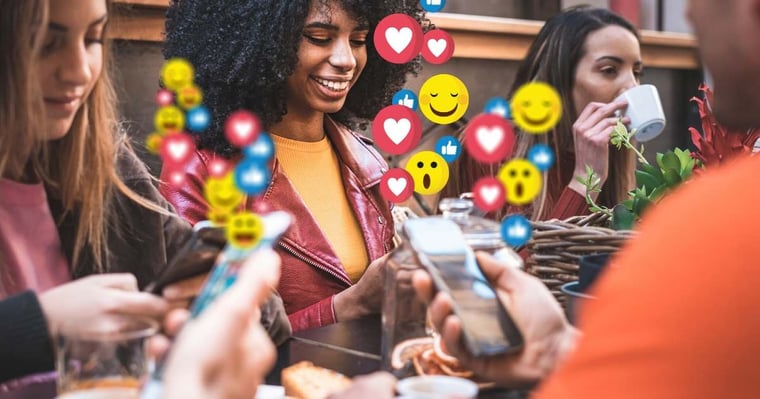 Why Should You Use Product Sharing?
Product sharing opens up the potential to seamlessly tap into your existing customer base's social network in an authentic and direct way. The power to share specific products drives increased engagement by enabling customers to further personalize the referral experience. As a result, this can lead to an increase in new customer acquisition & referral revenue.
In addition to sharing specific products with friends in mind, a brand advocate could also go the route of sharing specific products that they themselves have purchased, enjoyed, and would recommend. The flexibility and ease of use of product sharing make it extremely effective.
This system also allows brand advocates to integrate product sharing into their social media strategy if they so choose. As they highlight products that they love and would recommend, they can leverage the referral link that clicks through directly to the product for members of their audience who might be interested in purchasing it (and receiving a discount in the process).
The key to success here is for brand advocates to only highlight products that they really believe in and that they know will resonate with their audience: they can choose high margin products, most popular products, etc., all with the goal to drive revenue. Brands can also share "galleries" or "collections" of products - great for artwork or new product line launches.
How Does It Work?
The product sharing feature can be integrated and accessed on any product page by integrating a snippet of code from Talkable into the back-end of your website. After this is set up, whenever a customer clicks into any product page a referral call-to-action button (such as 'share with friends') will be included on the page. The button can appear alongside your existing product buttons like 'add to cart' or 'buy it now' or elsewhere on the page if needed.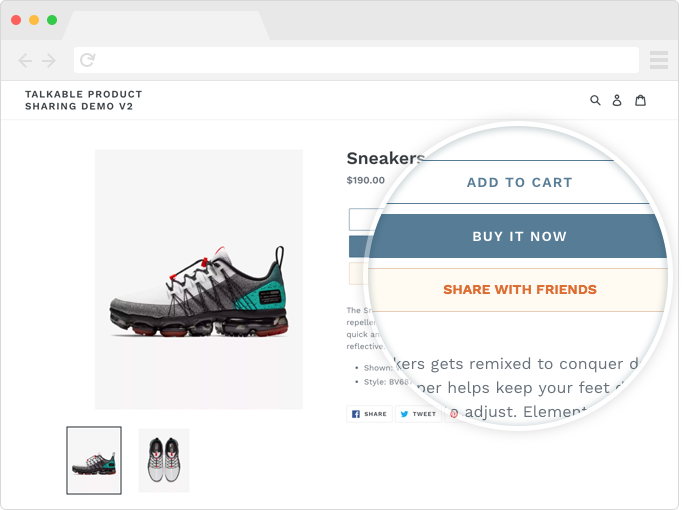 Once the call-to-action button has been clicked, the customer can choose to share the product by a variety of methods, including email, direct link, social media, or text messages. Friends who click the shared product link will see a product-branded Talkable claim page that leads directly to that particular product offer. After entering their information, friends will be sent right to the product details page where they will see a referral code. These referral codes can be used to provide a discount on any product, or restricted to that particular shared product.
Check out the demo of our product sharing feature in action here.
How Do I Integrate Product Sharing On My eCommerce Platform?
We provide copy and paste instructions for both Shopify and Magento to help simplify the integration of product sharing for you. That being said, if you use a different eCommerce solution, this should still be relatively easy to integrate.
The first step to integrating product sharing is to pull and pass Talkable product data on every product page. Required properties within this data include the product SKU (a unique product identifier) and a URL to the specific product.
If you need any assistance, a Customer Success Manager can help you with technical instructions and help you get your eCommerce presence fully integrated with product sharing.
Conclusion
We are excited about the impact that product sharing can have on our customers' online stores. This is an effective approach to bringing new customers into your product ecosystem and increasing sales and revenue consistently. Product sharing also has great potential to provide value for existing brand advocates and to expand your network of such passionate customers. By utilizing personalized recommendations from trustworthy sources, your products have the best chance to get in front of the people who have an existing interest in what you are offering.
If you have any questions, want to know more, or are ready to integrate Talkable's product sharing on your site, reach out to your Customer Success Manager to get started.