Customer Loyalty
2021 Marketing Tips: The Main Benefits of Loyalty Programs
Discover how customer loyalty programs can help businesses drive more sales while fostering a better relationship with their customers.
---
What Is a Loyalty Program?
A loyalty program (or customer loyalty program) is a formalized process for businesses or brands to incentivize ongoing patronage from their customer base. It is part of a marketing strategy centered around rewarding customers for repeat business with a company. In essence, the more a customer shops, the more (or the better) rewards they can earn. This is a win-win for businesses and customers alike. Businesses can increase their revenue through consistent and higher-value purchases while customers themselves benefit from discounts, desirable rewards, and other perks. Beyond the transactional boosts that customer loyalty programs provide, they also add value and respect to the customer experience.
How Do Customer Loyalty Programs Work?
Rewards programs may operate differently to address the unique customer base of each business, the level of investment a company wants to make, or the standard expectations of a given industry. What remains consistent is that loyalty programs will reward customers for their ongoing patronage. It is up to the company to determine how the loyalty program will be structured. They will need to determine what incentives can be offered to their customers, how the customer can progress toward the goal, and how the progress will be tracked and acknowledged by the business.
For example, it is common for businesses to offer one point for every dollar spent by consumers on their products. After that point amount reaches a certain threshold, the points can be redeemed for a reward such as in-store credit or a free item.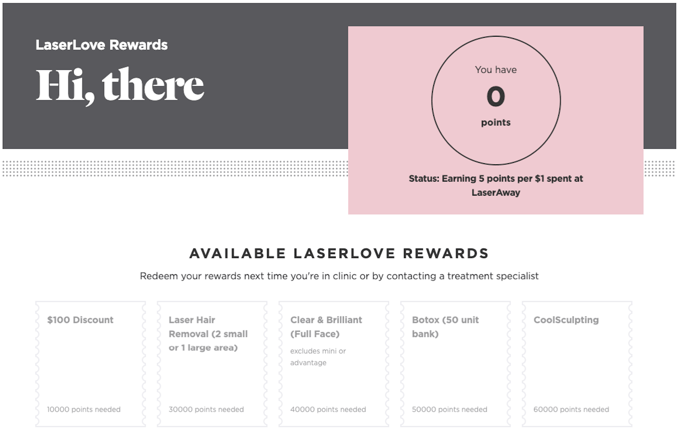 Read more about LaserAway Loyalty program here
Key Benefits of Loyalty Programs
The benefits of an effective customer loyalty program go well beyond repeat business (although that is a significant benefit). In actuality, the ripple effect of a successful customer loyalty program can extend throughout an organization, enhancing their marketing, advertising, customer retention, customer acquisition, and even their company values and culture. Here are some specific benefits that can be achieved through the use of a loyalty program:
Delight current customers: By having a loyalty program in place, existing customers can be rewarded without changing their regular shopping behavior with a business. However, when a customer knows that every purchase they make will give them progress toward loyalty incentives they can feel even better about every purchase they make with the business.
Attract new customers: The value of customer loyalty programs can be a strong marketing tool for a business. Especially for businesses that gain a reputation for having generous loyalty programs, the incentives can be highly attractive for new customers and serve as a talking point for word-of-mouth recommendations.
Drive sales and retention: When there are desirable rewards to be had, a loyalty program can encourage repeat purchases and improve customer retention. In fact, there is a significant correlation between loyalty programs and purchase activity with loyalty program members spending as much as 18% more than standard customers. Additionally, loyal customers generally spend 33% more than new customers. By catering to members within a loyalty program, a business can achieve consistent sales activity from its most valued customers.
Differentiation from competitors: A compelling customer loyalty program, or one that is clearly superior than what is being offered by direct competitors, can have a significant impact on purchase decisions. A rewards program can positively affect differentiation through factors such as the types of rewards offered (and their value), ease and breadth of use, convenience, and overall customer experience. This is increasingly important, as a study from Walker determined that price and product are losing market share to customer experience when it comes to key brand differentiators.
Strengthen the customer relationship: Customers make purchase decisions on a variety of factors regarding the product, but also with how deeply they connect with a brand. Customer loyalty programs offer the opportunity for more points of engagement between the brand and customer, and these engagements should be overwhelmingly positive. In addition, the tangible rewards offered within a loyalty program demonstrate appreciation for the customer. It has been estimated that customers who were completely satisfied with a service or product could generate 2.6 times more revenue for a business in comparison to customers who were described as "moderately happy."
Improve the shopping experience: Along with the satisfaction of earning progress toward rewards program goals with every purchase, some customer loyalty programs deliver perks to their members that directly improve the shopping experience. This could include early access to sales, free curb-side pick-up of online purchases, the ability to skip lines, receive priority customer care, and more.


Potential for reduced advertising spends: We know that it is much more expensive to acquire a new customer than it is to retain a customer. According to Invesp, it costs five times more to attract a new customer than to keep an existing one. With this in mind, it is easy to see the significant role that customer loyalty programs can have on a business' revenue. While it may vary depending on the industry, one report indicated that a 5% increase in customer retention in the financial space produces more than a 25% increase in profit. By keeping customers happy through loyalty programs, service, and a great shopping experience, businesses can spend less on advertising and rely more heavily on incentivized repeat purchases.
Create brand ambassadors: Loyal customers may naturally serve as effective brand ambassadors because of their authentic affinity for a brand. Since customer loyalty programs have the potential to increase the customer's connection to a brand, it can also be influential in helping a customer evolve into a brand ambassador - or someone who actively shares their love and recommendations for a brand. Additionally, loyalty programs may help brands clearly identify some of its most loyal customers, opening the opportunity to show personal appreciation for their loyalty or even to potentially partner on outbound marketing efforts.
Additional customer data and insights: Many referral programs require basic customer information to be provided when signing up. This likely includes an email address, the city they live in, and more. By having this customer database, brands can better determine what products drive loyalty, get more information on shopping habits, better understand how the loyalty program influences their retention rate, and more. Utilizing this data, brands can also effectively send out targeted offers via email that align with the customer's unique shopping history and preferences.
Why People Love Loyalty Programs
Customer loyalty programs usually (but not always) have little to no cost for the consumer, and offer the opportunity to earn incentives as they continue to shop with a business. This "all upside" scenario makes a rewards program compelling and accessible while giving customers the opportunity to save money, earn items, perks, or experiences just for shopping.
That is not the full story, however. Customers enjoy being part of customer loyalty programs for a variety of reasons. Some consumers may want to feel like a priority, as demonstrated by a Wunderman study that concluded that 79% of consumers only buy from brands that prove they care about earning their business. Other customers want to feel special and benefit from exclusive perks. Some consumers may like the gamification aspect of the rewards program process, constantly having goals or objectives to work towards.
Common Rewards Within Loyalty Programs
Within most customer loyalty programs there are several types of rewards that businesses frequently offer. Typically these offers are able to be claimed after the customer reaches a specific threshold of money spent or points earned with a given business. Common rewards include:
Store credit: Members earn in-store credit for a specified amount of money to use on a future purchase. This is especially helpful for businesses that have ongoing and consistent patronage (such as grocery stores) but can be applied to a wide variety of companies.
Discounts: Similar to the cash-back offer, some loyalty programs will offer coupons for significant discounts as part of their benefits.
Redeemable items: Some loyalty programs will allow members to "purchase" certain items from the brand using points they have earned through patronage or other activities relating to the business.
Experiences: Benefits are not always directly related to items and saving money. Occasionally, loyalty programs will offer access to special events, classes, or activities for their members to participate in.
Perks: Some customer loyalty programs like to roll out the VIP treatment to their members in the form of exclusive perks. This could include things like free shipping, free gift-wrapping, member-only sales events, early access to new products, and more.
Sweepstake entries: For businesses that may not have a product that is bought in high-frequency, they may consider sweepstake entries to reward their loyal consumers. These generally feature a higher-ticket prize package such as a vacation or access to a coveted event.
Do Customer Loyalty Programs Really Work? The Data Behind the Program
Good customer loyalty programs start with a business that has excellent products or services to begin with. Without that, developing customer affinity through loyalty rewards is exceedingly difficult. But assuming that a business is deserving of repeat customers, loyalty programs can be an incredibly effective tool in promoting continued engagement and repeat purchases. When comparing two similar businesses, 75% of consumers say that they prefer companies that offer rewards. Loyalty programs increase sales and revenue as well. Along with the increased customer retention (and in-turn purchases) that it can provide, the Harvard Business Review suggests that loyalty leaders grow revenues roughly 2.5 times as fast as comparable businesses in their industry.
How to Measure a Loyalty Program
When running a customer loyalty program, it is important to always have a pulse on its performance. By determining a program's strengths, weaknesses, and trends over time, a business can make adjustments to refine and improve the program as they go along. But what metrics should be considered to determine its overall effectiveness? Some valuable data to monitor includes:
Membership growth: By analyzing the quantity of new customers signing up to be part of the program, brands can assess whether their program is appealing to their consumers and if their marketing efforts are resonating with their audience. If growth is flatlining, brands can consider modifying their promotional efforts or reward incentives.
Engagement in the program: How frequently are customers directly engaging with the customer loyalty program? This can easily be indicated by the frequency of reward redemptions. In addition, brands should monitor traffic to their loyalty program hub, which may include web pages or mobile apps. If tailored offers are being served up to those within the program, click through rates and conversions should be assessed. It is also wise to track if the loyalty program results in any changes in the customer's purchasing habits.
Customer feedback: Soliciting feedback from participants in a loyalty program can deliver a better understanding on how well the program is being received. By honing in on repeated comments and requests, this honest feedback can be a catalyst for change and improvement of the program's offering.
Conclusion
Customer loyalty programs can serve as an integral tool for companies to increase customer retention, revenue, and satisfaction and can help foster growth of the customer base. It is a marketing resource and customer engagement system that can change the way that brands do business. Loyalty programs deepen the brand and consumer relationship through various points of contact and ensure that the customer feels valued for their continued patronage.