Growth Marketing Strategies
10 Customer Loyalty Campaigns We Are Obsessed With
It is important to foster your customer relationships. One way of doing so is through loyalty programs for your customers for their continued patronage.
---
Regardless of the industry you are in, it is important to foster your customer relationships. One proven method of doing so is through loyalty programs which benefit your customers for their continued patronage with your business.
This is rarely a one-size-fits-all approach, as different audiences from different markets may be incentivized by entirely different rewards; while customers in some industries may value exclusive perks and pampering, others may just want to save money on a future purchase. 76% of shoppers expect some kind of recognition besides monetary benefits, like a special treatment perk that gives them a smoother, faster and more personalized shopping experience.
Regardless of the reward(s) that can be earned in any given program, the psychology of loyalty is at play and can be a powerful and positive influence. Here is a list of some of our favorite loyalty programs right now (in no particular order). We hope that one of these sparks inspiration for you to implement a loyalty program for your customer base as well!
Starbucks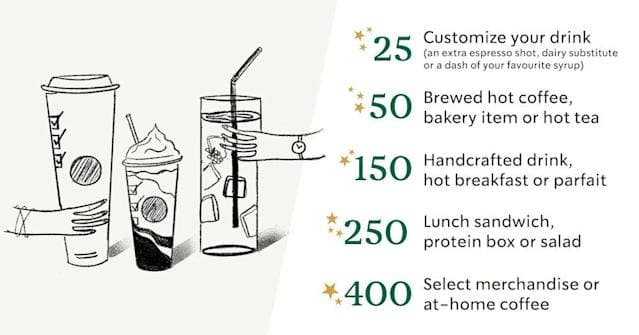 Starbucks is already part of many of our daily routines, but the Starbucks Rewards program gives that much more incentive to skip the homebrew and instead head into their store to pick up your favorite order. This generous loyalty program has progressively more-enticing rewards ranging from an extra shot of espresso all the way up to free lunch or exclusive Starbucks merchandise. Members can earn extra rewards points (called 'stars') within the Starbucks app and newsletter, on 'Double Star Days', or by becoming a Starbucks Rewards Visa cardholder. These additional methods of earning stars promote more engagement with the brand while not exclusively requiring customers to make purchases to earn rewards. We love the look and feel of their dedicated rewards page, and the progress bar keeps customers coming back and planning their next stars' redemption. If coffee is a part of your regular routine, the Starbucks Rewards program gives back the right kind of rewards at a generous pace.
This is the very definition of a successful loyalty program. According to a report released in 2020, Starbucks Rewards program is responsible for 40% of its overall revenue. It produced a 7% increase in sales in 2019, making Starbucks the largest coffee shop in the world. Research by The Manifest shows that 48% of mobile users who regularly use restaurant apps use Starbucks Rewards.
REI Co-Op
While the REI Co-op Membership is a paid program, they make up for it in value - both monetary and experiential. At just $20 for lifetime access, it is more than worth it for lovers of adventure and the outdoors. The REI Co-op Membership offers rewards in the form of an annual dividend (10% of back on eligible REI purchases), member pricing on REI classes and events, discounted outdoor gear rentals, and members-only events such as new-member hikes and gatherings with local brews. You can even get special member pricing on 'REI Adventures trips that take place all around the world. Dividends can be increased with the use of the REI Co-op World Elite Mastercard. It is clear that REI understands its customers and uses the program to help foster more outdoor adventures, a true sense of community, and in turn a stronger emotional attachment to the brand.
In 2019, REI experienced record sales of $3.12 billion and 8% growth in online and brick-and-mortar sales. 2020 was a different story. REI did not earn a profit, yet they did add one million new members to their co-op community. That paid off for the new subscribers. REI couldn't pay cash dividends to their investors, but they did give out member rewards equal to dividend shares to their co-op members.
Credo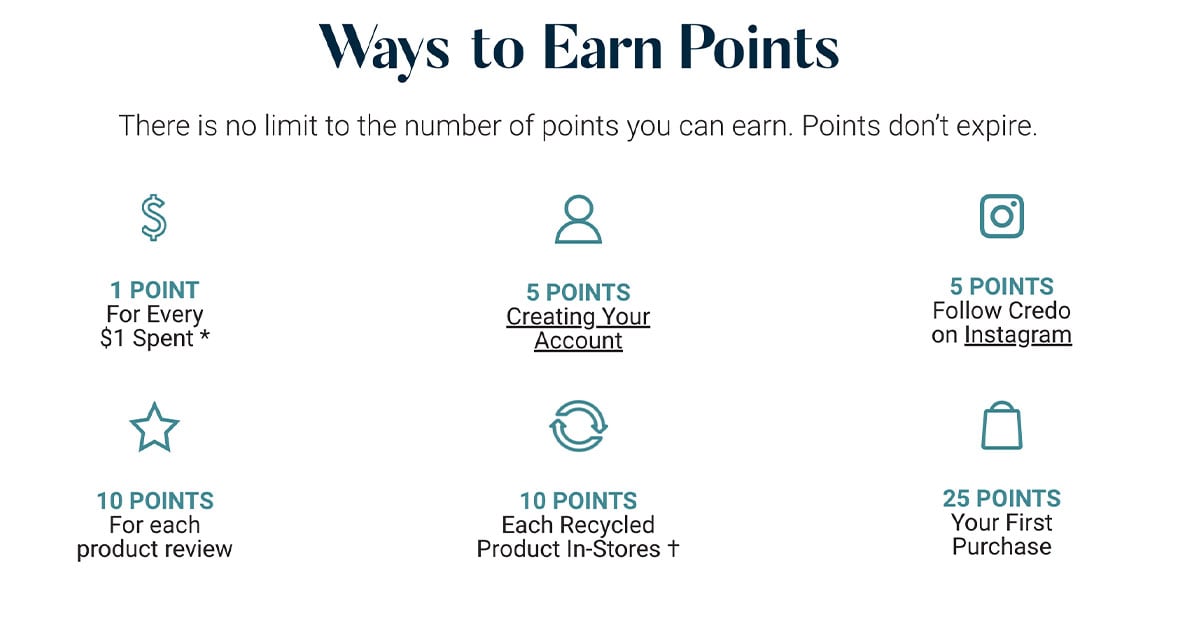 Credo, the largest clean beauty retailer on the planet, has a compelling reward offering for its customers with almost no barrier to entry. All that is needed is an account on credobeauty.com and customers are ready to start racking up points. Before customers sign up, they can see the wide variety of products available to be redeemed within the rewards program, including makeup bags, deodorant, and primer. Once registered, customers will earn points for every dollar spent and can get a higher rate of return if they hit purchase milestones throughout the year. This gamifies the platform by providing clear goals to encourage continued patronage.
The exact numbers for Credo Beauty's rewards program are not available, but the company did $3 million in sales in 2020 with just twenty full-time employees. They also run a 20% off "Friends and Family" sale each October on all of their products, an incentive to spend more, earn more rewards points, and move up a level in their hierarchy.
Carter's
All parents understand the struggle of keeping their growing kids in clothes that fit and stay current with their evolving sense of style. Carter's Rewarding Moments program helps reduce the financial burden for its loyal customers. Their model is fairly simple: for every dollar spent you earn one 'point', and when you reach 150 points you get a $10 reward. At a base level, this earns members a 6.66% discount on their purchases. This does not factor in the additional sales, coupons, and extra surprises that are delivered to members. To add even more value to this program, shopping at OshKosh B'gosh and Skip Hop also earns members points. If children's clothing is a significant expense in your family, using a Carter's Credit Card for your purchases earns you double points - helping you get your rewards twice as fast. The collaborative benefit of streamlining the rewards process amongst affiliated brands is also a strategy that other similarly constructed organizations should take note of.
The financial benefits of the Rewarding Moments campaign showed clearly in the company's 2021 Q1 Fiscal Report. Carter's, Inc. posted quarterly sales numbers of $787 million, a whopping 20% growth from the previous quarter. CEO Michael D. Casey attributed at least part of that growth to "a focus on more effective promotions." Online net sales, where Carter's Credit Cards are most often used, were up 38%.
TJ Maxx
While TJ Maxx's program centers around their TJX Rewards credit card, it is powerful in its simplicity. For every $200 spent on this card to make purchases at TJ Maxx or their family of stores (including Marshalls, HomeGoods, Sierra, and Home Sense), you receive a $10 reward in the mail. Receiving this reward physically in the mail often comes as a surprise and is perceived more as a 'thank you gift' for the patronage rather than a discount. This creates a fun sense of anticipation for when the next bonus may be arriving. For those that want to be in the know, a progress bar within the online payment portal and a status update within their monthly billing statements keep customers informed and aiming for their next reward.
With a heavy reliance on their brick-and-mortar locations, sales numbers at TJ Maxx, HomeSense, and Marshall's were all down in 2020, but the new year looks promising. Net sales to start the year are at $4.4 billion for the first quarter. They've also incentivized their employees to get more credit card applications, offering merchandise discounts in return for peak performance.
Uber
Uber Rewards can be redeemed by earning points with every eligible purchase on both Uber and Uber Eats. These rewards come in the form of Uber Cash as well as benefits geared at better, more-exclusive service. For instance, once you make your way up to the 'Diamond' level of Uber Rewards, you can get access to the highest-rated drivers and complimentary upgrades at no cost when available. For those who rely on Uber for their regular transportation and delivery needs, the perks can add up quickly. We also love how visible your points total is and how many more are needed to earn the next reward. Also, by clearly displaying perks at all levels, it is easy to be incentivized to push for higher tiers and a higher level of status within the program.
The beauty of Uber Rewards is that you don't have to do anything special to be eligible for them. Their customers use the app for either rides or food deliveries (or both), and their delivery business more than doubled last year to $44 billion. The company went public on May 9th and the stock is off to a rocky start, but it's expected to surge later in 2021.
Nordstrom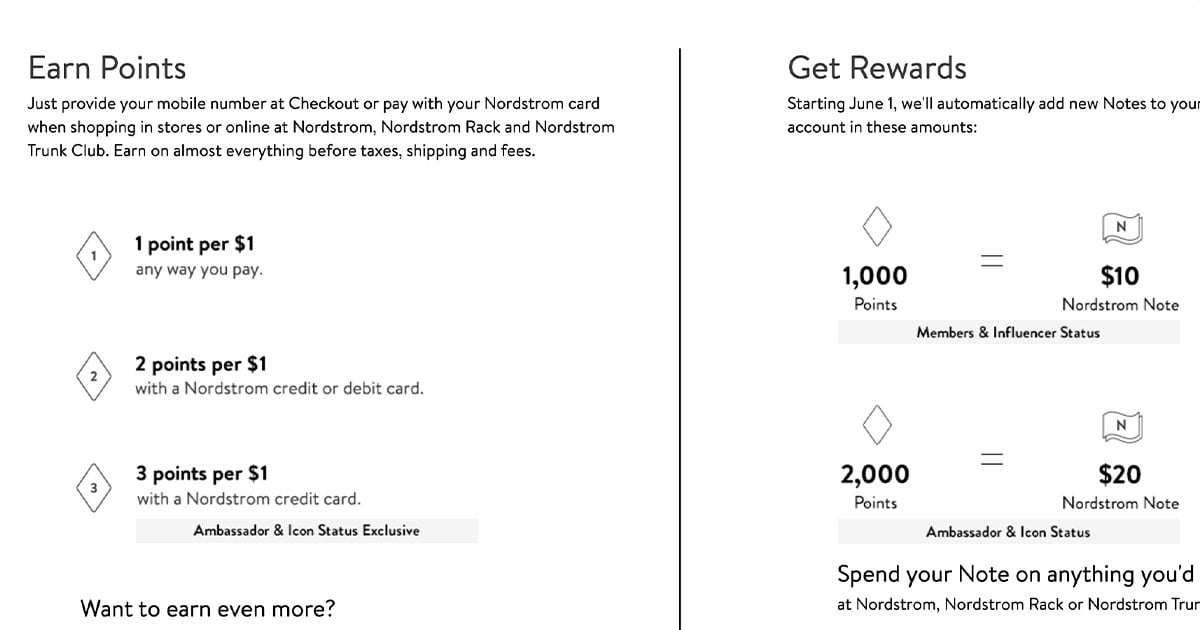 The Nordy Club from Nordstrom gives their customers the cash back they would expect along with some unexpected perks that set this program apart from the competition. Points are earned for every dollar spent at Nordstrom, and members receive cash rewards (Nordstrom Notes) to be spent in the store or on their website. Members get some very useful perks such as access to beauty and style workshops and curbside pickup. Points can be earned at three times the rate when purchases are made with a Nordstrom Credit Card. Cardmembers get early access to the highly coveted Anniversary Sale as well as $100 in alterations benefits, adding a real boost of value and a sense of exclusivity for their most dedicated customers.
By offering exclusive benefits, Nordstrom is doing what many other retailers have not been able to: enhancing relationships with their existing customers. According to their 2020 Q4 Fiscal Report, which exceeded expectations, the Nordy Club now has over 11 million members and generates 56% of its annual sales.
Lancôme
Lancôme's Elite Rewards program delivers the standard points for purchases structure but is unique with the wide variety of ways you can earn additional points. This includes point bonuses for actions such as joining Lancôme's newsletter, following their social media channels, completing surveys, or signing up for an "auto-replenish service" for high-use items. When it comes time to spend these points, members have access to a rewards catalog including full-sized products, VIP partner rewards, and unique experiences.
Lancôme, which is owned by L'Oréal, uses the same philosophy as Nordstrom, rewarding existing customers with exclusive access to their rewards catalog. Financial reports are issued by the corporate office and the company does business internationally. Exact metrics on the rewards program are not available, but eCommerce sales rose 62% in 2020, representing 26.6% of total sales for the group.
Sleep Number
Sleep Number's InnerCircle rewards program does things a bit differently. Members can earn store credit by writing reviews, participating in surveys and polls, and referring friends. Members can also enter sweepstakes for a chance to win Sleep Number products or even event tickets (such as NFL playoff tickets). This adds some excitement and energy to a category that may lack high levels of engagement. The InnerCircle program should be referenced closely by other brands trying to foster loyalty and engagement that may have low repeat-purchase rates.
Sleep Number also offers a $100 referral bonus to any customer who refers someone that purchases a Sleep Number bed. They have a similar program for InnerCircle members who move up a tier. This keeps the program fresh for participants. Annual sales for the company have been consistent, with roughly a 10% growth rate year over year.
Sephora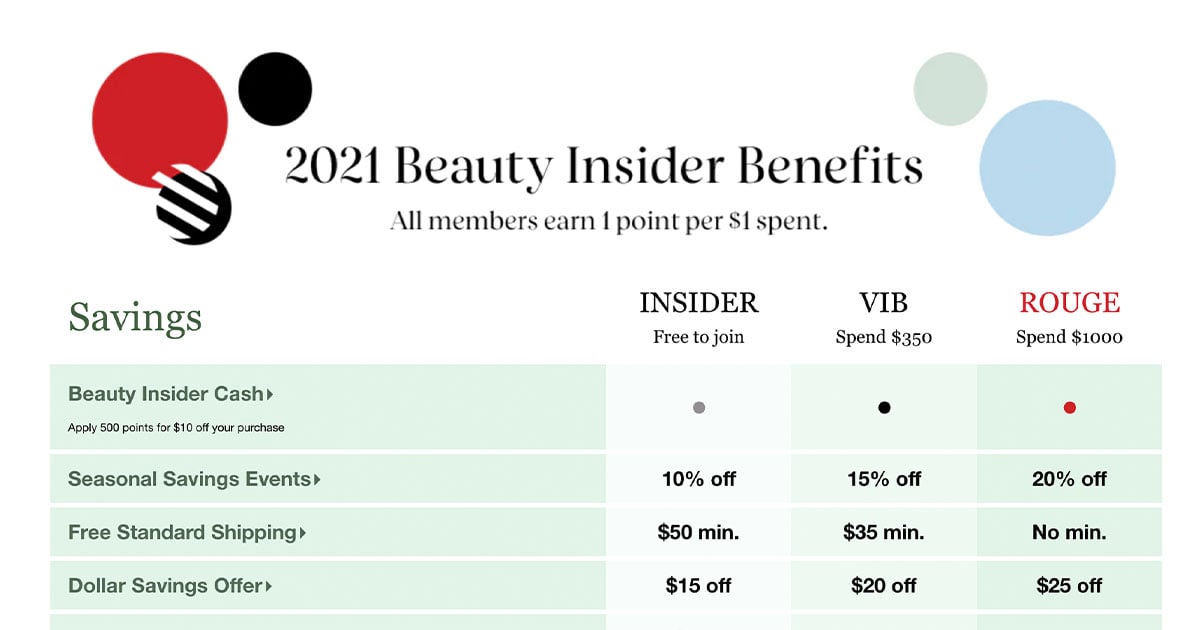 Sephora's Beauty Insider program is free to join, again allowing members to earn one point for every dollar spent. These points can be redeemed to purchase beauty products, services, and one-of-a-kind experiences in the Rewards Bazaar. While there are many items to choose from, Sephora keeps members coming back to their rewards site by updating their redeemable rewards every Tuesday and Thursday morning. This keeps things fresh and exciting within the program. Beauty Insider benefits also increase in tiers depending on the amount a member has spent on Sephora products, but even at the base tier, you get three choices for a free birthday gift. This is a great example of a robust and versatile reward program for highly engaged audiences.
Conclusion
If your business is selling a consumer product, loyalty rewards programs can transform the way your customers interact with you and keep them engaged on an ongoing basis. Regardless of the type of program you implement, it is important that you clearly convey how your customers can earn their rewards. For instance, if points are the main currency of the program then there should be a straightforward way that them to be redeemed for benefits such as cashback, products, or other perks. In most cases, the design of your program's webpage and other marketing materials can do much of the heavy lifting in conveying this message. While this article provides a variety of different approaches to loyalty programs, we encourage you to be creative with finding ways for your customers to earn additional points and more reasons to continue doing business with your brand. If your customers are already passionate about your brand, a loyalty program will only strengthen that relationship and promote more frequent patronage and referrals.