For the team at Talkable, we have the opportunity to witness really unique and inspiring refer-a-friend campaigns regularly. The inspiration is a combination of client-led direction, paired with the data and insights from the customer success team. The "cherry on top" is usually an element of flair, maybe it's execution, or maybe it's imagery or design. Either way, we thought highlighting this month's stellar campaigns could provide inspiration for you and your team. Whether you're newly considering Referral Marketing as a strategy or if you're an age-old pro, these campaigns are sure to impress. Let's dive in!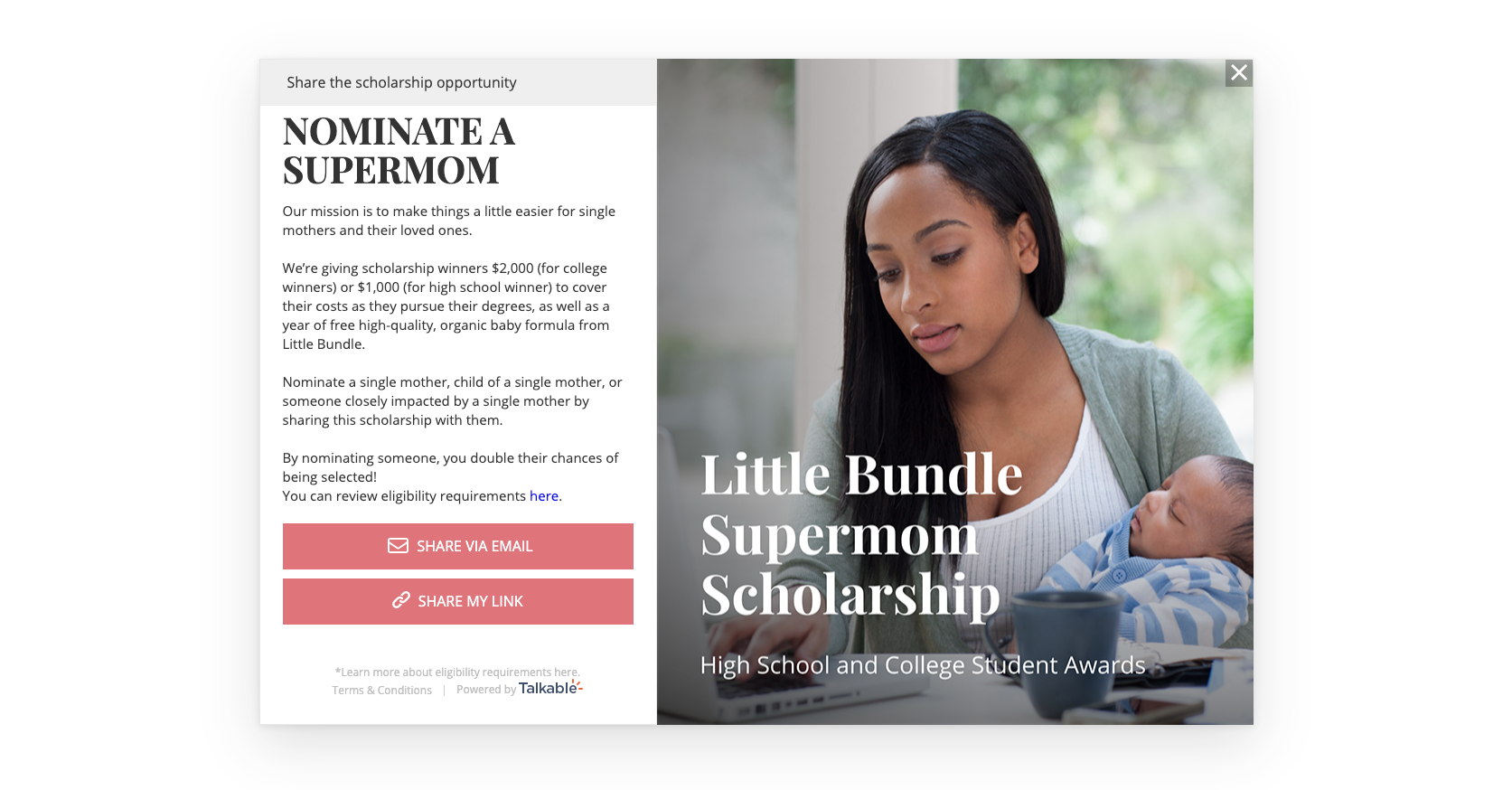 Everyone has a mom-in-mind when you ask the question, "who is a super mom?" Little Bundle deployed this empowering campaign that used Talkable's Referral Program to reward an action rather than just a referral. They leveraged the very popular floating widget to promote the campaign and to create engagement. Not only did they promote the campaign on-site, but they also leveraged social channels like email to make nominations more personal.
How can your brand take the "sharing" functionality to drum up excitement, participation, or engagement with your brand? We're here to help if you need a brainstorming partner!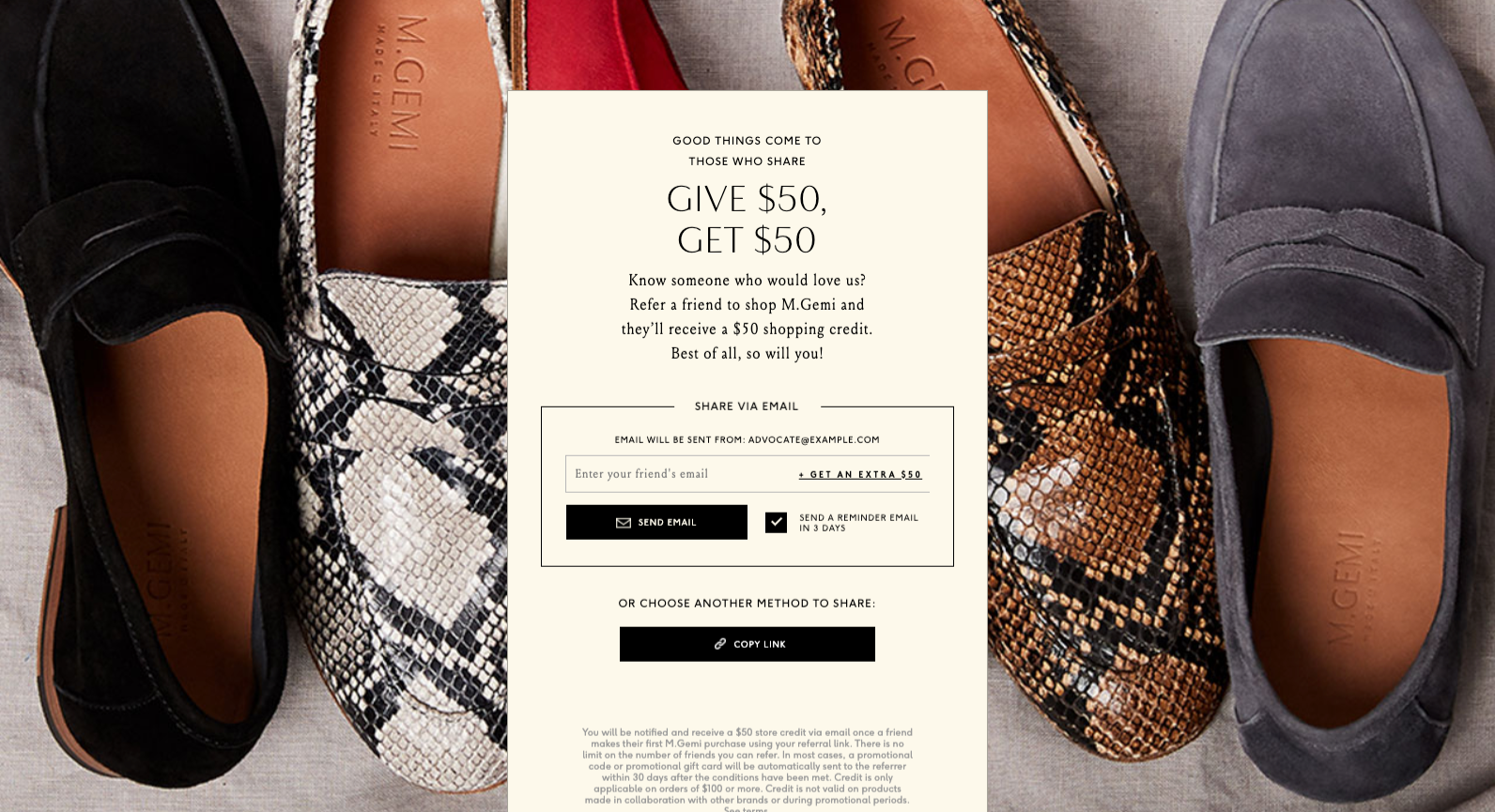 M.Gemi is an excellent example of a brand that flawlessly integrates their campaigns into their user experience. Their program has a flow that comes across with elegance while also being very effective. One powerful example is their full-bleed invite campaign that reminds advocates that they can receive an extra $50 reward with each additional share. How could you not resist an extra $50 off these gorgeous Italian shoes? It's no secret that their imagery plays a role in the program's success.
Are you a high-end brand that wants to protect the credibility of your brand while also stimulating new customer acquisition? Keep it simple. Email has been their best performing share channel and because of this, they keep sharing by email the focus of each campaign and avoid distraction with social options.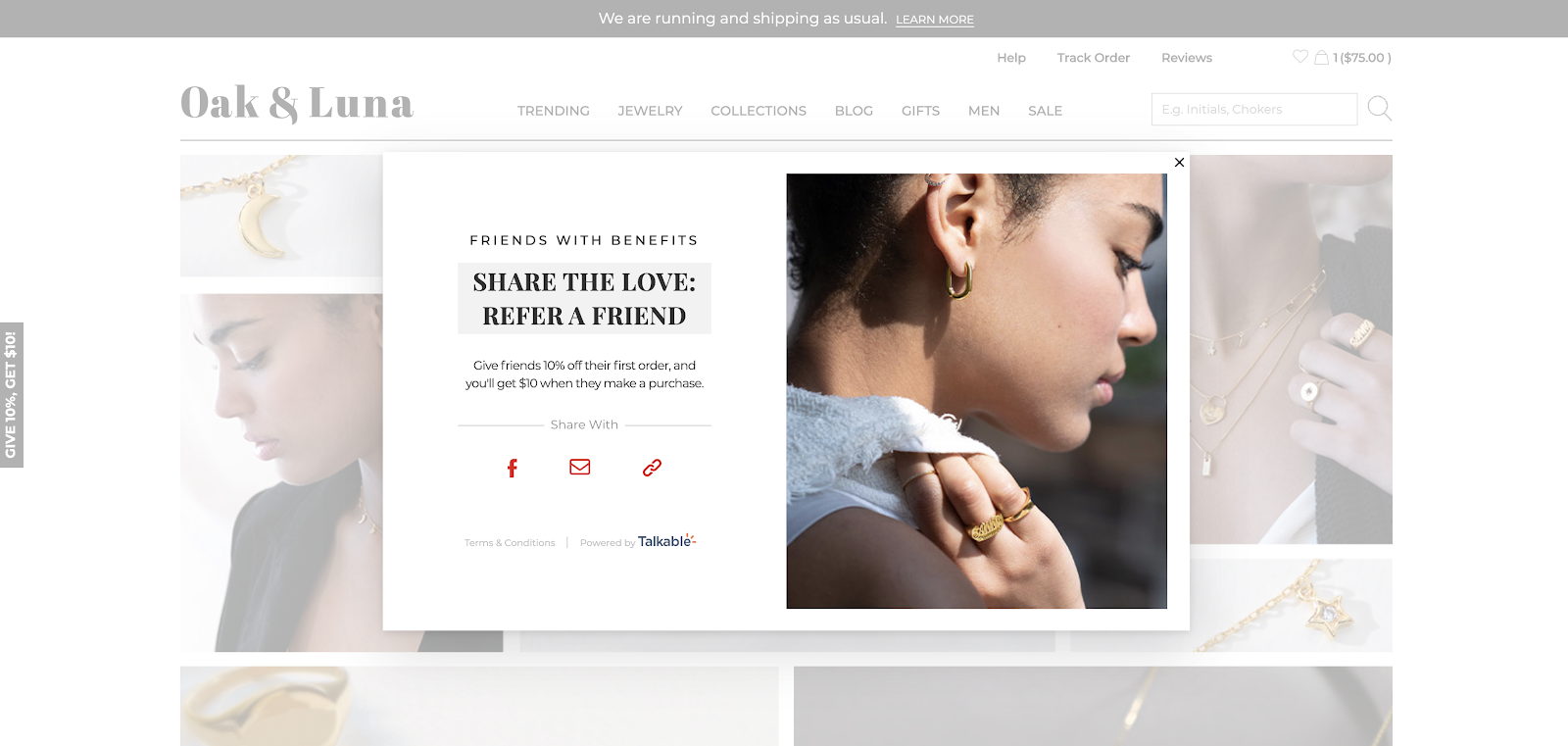 While we're on the topic of simplicity, Oak & Luna is a brand that owns white space site-wide, and lets imagery and iconography do all the talking. Messaging that's straightforward always produces and this is a classic example of the Pop Up Campaign.
Cheeky "Friends with Benefits" gives a play on words and helps their brand shine through.
Craft a referral marketing campaign that allows your brand to shine, we'll team you up with one of our UX/UI Specialists to architect what that could look like for your brand.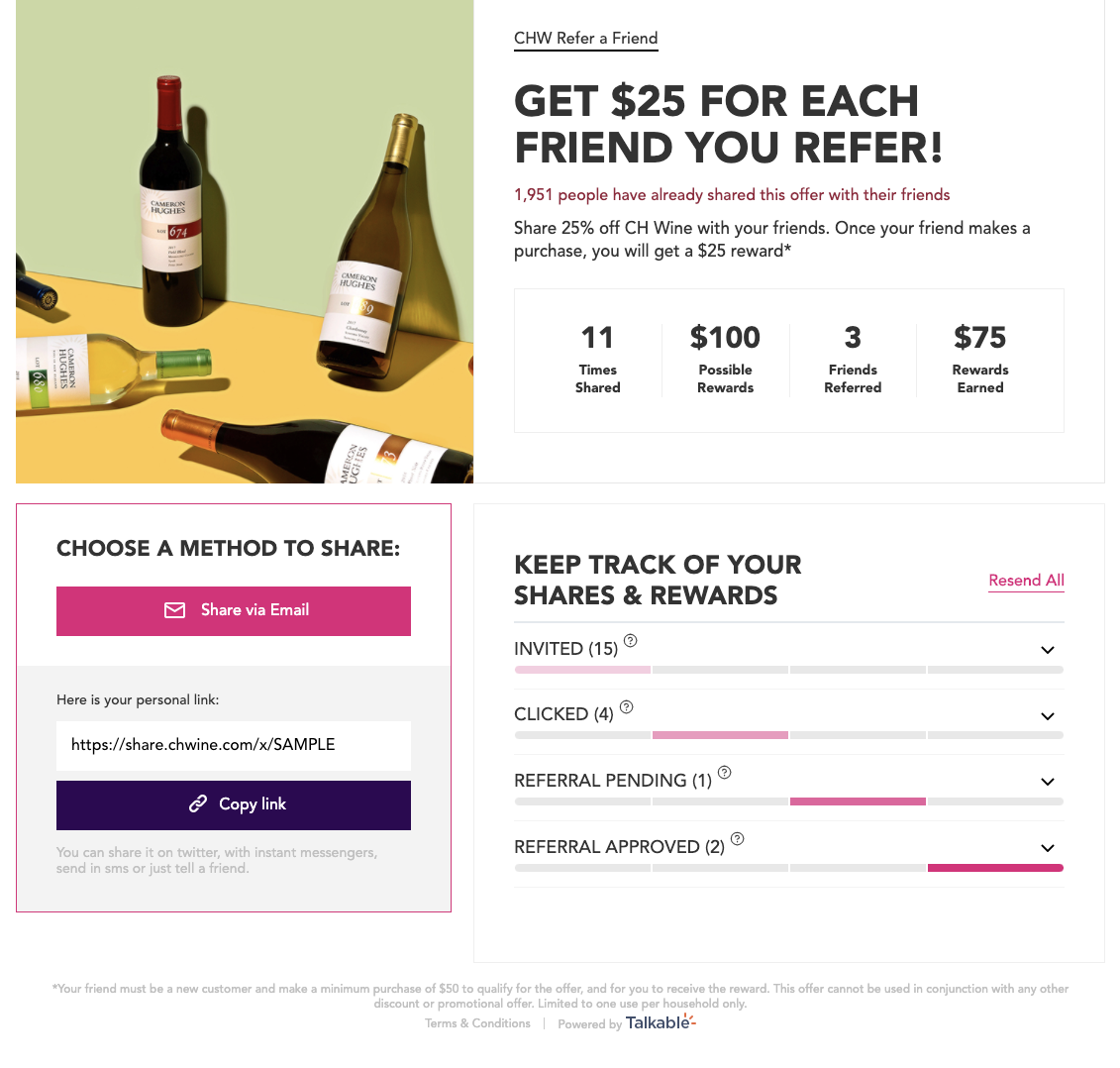 CH Wine makes it exceptionally easy for advocates to track shares, remind friends of rewards, and earn more rewards for themselves with their Campaign Dashboard. You'll notice at the top of the campaign, they display how many people have already shared this offer. There is an element of FOMO here; where you can see how many people have already shared this promotion with their friends, which 1) establishes brand credibility but 2) also gives me the extra boost needed to go ahead and share with additional friends.
Once the sharing begins, advocates have transparency with their pending invites, and it's easy for them to remind their friends (with a simple personalized link) to buy their wine and take advantage of the promotion.
The Campaign Dashboard can turn everyday advocates into mini brand ambassadors. Do you have a product that naturally has raving fans? Let's capitalize on their passion for your brand and give them a reason to share with their friends.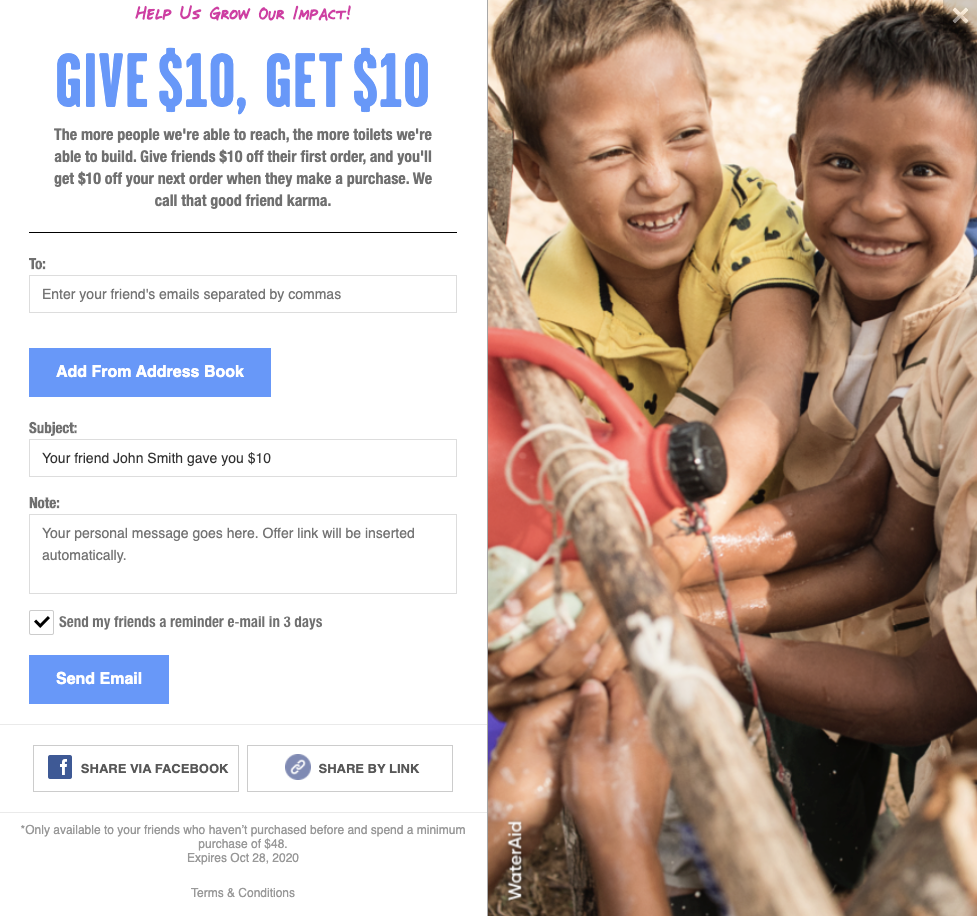 Who Gives A Crap is a company that leads with its mission. Their charitable core is emphasized in message placement and gives brand advocates all the more reason to share. If you knew that the more you spread the word, the more toilets could be built around the world, you would want to take action to do so.
What we can learn from Who Gives A Crap, is lead with a strong message and follow that up with a simple way to share. Here, they persuade advocates to share through email (their best performing share channel) by using our Email Emphasis Template. This template even allows advocates to import their email contact list when sharing.
Talkable works with dozens of brands who put their charitable missions first, are you one of these brands? Do you want to stimulate growth for that mission? Let's connect.
These campaigns really raise the bar and definitely provide inspiration for brands from all industries. Whether you are a high-end brand, a charitable brand, or a chic new direct to consumer, a referral program can drive acquisition and incremental revenue. Let us know if you have questions on how to get started or on how to apply one of the strategies mentioned above.